Deaths Reported as Polls Open in Bangladesh
TEHRAN (Tasnim) - Police in Bangladesh shot dead three protesters as suspected opposition activists stabbed an election official to death and set more than 100 polling stations on fire in a bid to disrupt general elections that threaten to deepen the crisis in the South Asian nation.
January, 05, 2014 - 11:28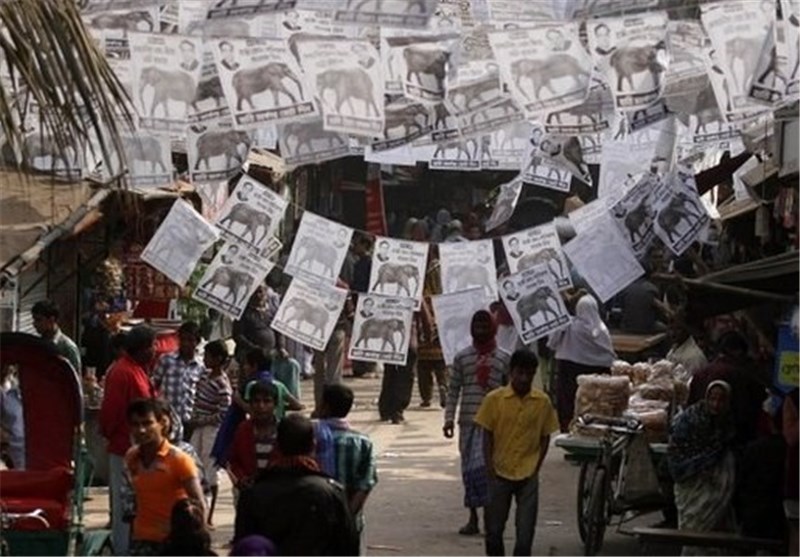 Fear of more attacks expected to limit turnout on Sunday. Around 150 people were killed in the run-up to the vote and tens of thousands of troops have been deployed across the country ahead of the vote.
Police said that more than 100 polling stations had been attacked since late Saturday into early Sunday, and officers guarding the booths had also been targeted.
Voting will remain open for eight hours on Sunday, starting at 8am local time (0200 GMT). A huge security operation involving 50,000 troops has been mounted to oversee the vote, Al Jazeera reported.
With fewer than half of the 300 parliamentary seats being contested, the ruling Awami League and Prime Minister Sheikh Hasina are poised to sweep to victory.
The vote is boycotted by the opposition Bangladesh Nationalist Party (BNP), which urged voters to stay away from the "farcical" election, and shunned by international observers.
The bitter rivalry between the country's two dominant parties has fuelled concerns about economic stagnation and further violence in the impoverished South Asian country.
The BNP is protesting against the prime minister's decision to scrap the practice of having a neutral caretaker government oversee elections.
Turnout was expected to be down amid fears of violence, with more than 120 polling places - mostly in rural areas - reportedly set ablaze since Friday.