Iran, Turkey Stress Need to Adopt Common Stance on Syria Crisis
TEHRAN (Tasnim) – Iranian Foreign Minister Mohammad Javad Zarif and Turkey's Prime Minister Reccep Tayyip Erdogan in a meeting in Istanbul stressed the necessity for adopting common stance to resolve the crisis in Syria.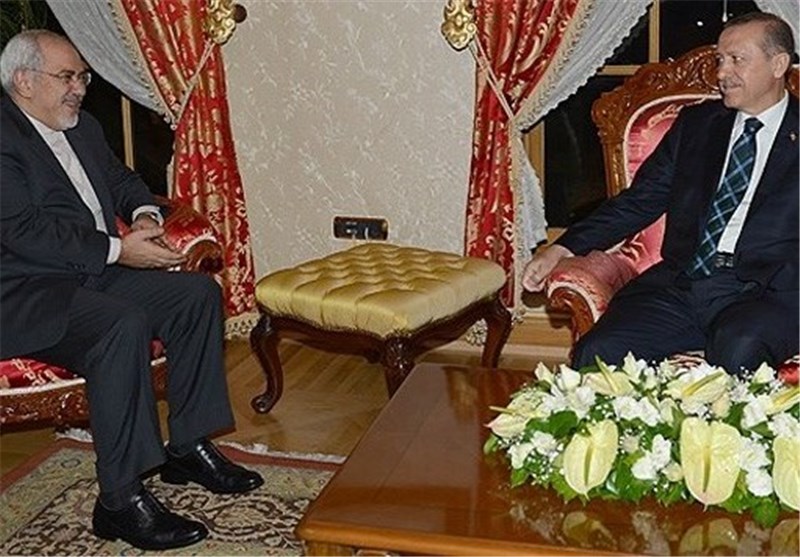 During the meeting held on Saturday evening, the two sides explored avenues for the further expansion of bilateral relations and mutual cooperation, and exchanged views on the latest developments in the region and the Islamic world.
Zarif and Erdogan also discussed the latest developments in Syria, Iraq, Afghanistan and Egypt.
As regards Syria, the two officials called for closer common stance between Iran and Turkey over Syria and stressed that common steps should be taken for resolving the deadly crisis through political ways.
Iran has said it will continue its support for the political solution to the Syrian crisis regardless of the country's participation or its absence in the upcoming peace conference on Syria in Geneva.
Hossein Amir Abdollahian, deputy foreign minister for Arab and African affairs, said earlier this week that Iran supports political solution to the Syrian crisis and whatever that may serve the interests of the Syrian nation.
The UN Secretary General Ban Ki-moon announced on November 25 that the much delayed Geneva 2 Conference on Syria will be held on January 22, 2014.
The conference would bring representatives from Syria's government and elements of the opposition to negotiate an end to the fighting that has raged on since March 2011.
Geneva 2 is the second sequel of Geneva 1 conference held in June 2012 in which international parties laid out a peace plan for Syria that calls for a transitional governing body. It left open the question of whether Syrian President Bashar al-Assad must leave power.
The final communiqué issued on 30 June 2012, following the meeting of the so-called Action Group for Syria called for an immediate cessation of violence and the establishment of a transitional government that could include officials serving under President Bashar al-Assad and members of the opposition.
According to UN-Arab League Special Representative for Syria Lakhdar Brahimi, about 30 countries, including Saudi Arabia, Algeria, Brazil, Egypt, Kuwait, Oman, Qatar and the United Arab Emirates, would be invited to the day-long conference on January 22 in the Swiss city of Montreux.