Egypt's Army Chief Seen Edging Closer to Presidential Bid
TEHRAN (Tasnim) - In Egypt, it no longer appears to be a question of if, but when army chief Abdel Fattah al-Sisi will declare his candidacy for president.
January, 07, 2014 - 13:33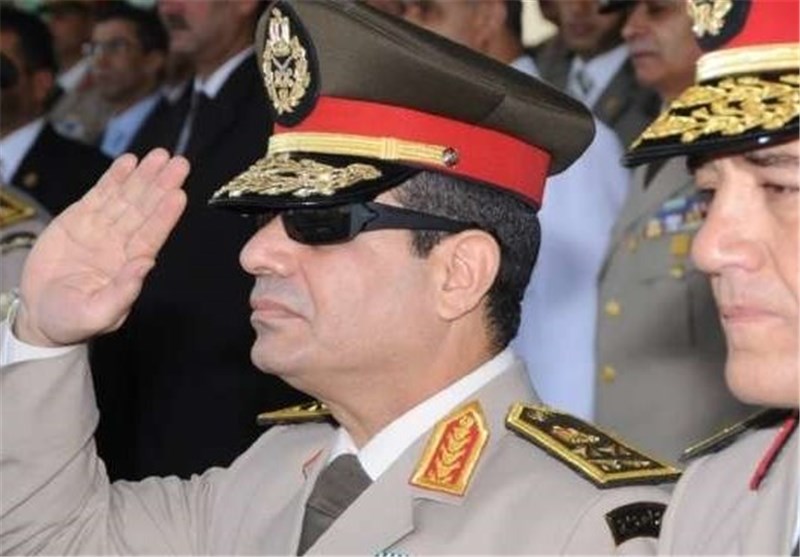 For the second time in three days, local media reported on Monday that Sisi had finally made up his mind.
With no other obvious candidates for the post, the general who deposed President Mohamed Mursi in July has kept Egyptians guessing about his intentions as the clock ticks down to the presidential vote that could happen as soon as April.
Sisi's candidacy would further deepen divisions between the many Egyptians who believe a firm hand is needed to steer the country through crisis and Islamists bearing the brunt of a state crackdown on dissent.
Speaking to Reuters on condition of anonymity, an official in the security services said Sisi was "most likely going to announce that he will run for the presidency", adding: "The army in a recent meeting expressed its support for him to run."
The question of Sisi's intentions has become more pressing since the army-backed authorities signaled that the presidential election will come ahead of parliamentary polls - reversing the original timetable.
In public statements, the army has said nothing on Sisi's intentions - the major outstanding question of the political transition set in train after the military deposed Mursi following mass protests against his rule on June 30.
Responding to a local TV report saying Sisi would run, the army issued a statement on Saturday saying the military did not make declarations via anonymous sources and urging the media to show professionalism in its reporting.
But it did not clearly deny the main elements of the report read out during an evening talk show on MBC Egypt: that Sisi will now run and Sedki Sobhi, currently chief of staff, will take his place as defense minister and army chief.
There is little doubt Sisi would win the election, turning the clock back to the days when the presidency was controlled by men from the military - a pattern interrupted by Mursi's 2012 win and one year in office, Reuters reported.
Though Sisi enjoys broad support among those Egyptians happy to see the end of Mursi's rule, he is reviled by his Islamist opponents, who view him as the mastermind of a bloody military coup against the country's first freely elected head of state.
The army-backed government has mounted a crackdown on Mursi's Muslim Brotherhood, driving it underground and prompting fears of longer term instability. Prominent secular dissidents have also been arrested in a blow to political freedoms.
But Sisi's supporters see him as the kind of strong man needed to bring stability after three years of turmoil. His face has appeared on posters and chocolates, he has been lionised by the media and songs have been dedicated to him and the army.
In his last public remarks on whether he would run, Sisi, 59, held open the possibility. "Let's see what the days bring" he told a Kuwaiti newspaper in a November 21 interview.
People familiar with Sisi's thinking have said he was by no means set on the idea of running for the presidency of a country facing economic and political crises.
But with little time left for another candidate to be introduced to the public, analysts say he now has no choice.