FM Renews Iran's Opposition to N. Weapons
TEHRAN (Tasnim) - Iranian Foreign Minister Mohammad Javad Zarif once again stressed Iran's steadfast opposition to nuclear arms, saying that such weapons have no room in Iran's defensive doctrine.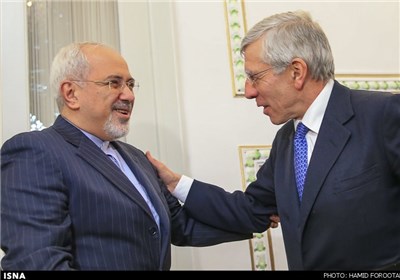 "Nuclear weapon has no place in the Islamic Republic of Iran's defensive doctrine," Zarif said on Tuesday, in a meeting with former British Foreign Secretary Jack Straw, here in Tehran.
The Iranian minister also pointed to a religious decree issued by Supreme Leader of the Islamic Revolution Ayatollah Seyed Ali Khamenei that prohibits nuclear weapons, and stressed that the Leader's view on the issue is "religiously important" and has also "strategic aspects".
Ayatollah Khamenei has on many occasions stressed that the production, stockpiling and use of nuclear weapons is forbidden and the Islamic Republic considers the pursuit and possession of nuclear weapons as a grave sin.
The leader also issued a fatwa declaring that the production, stockpiling, and use of nuclear weapons are religiously prohibited.
Elsewhere in his remarks, Zarif decried certain foreign countries for their wrong conclusion that anti-Iran sanctions have been effective, and added, "The Islamic Republic of Iran has proved that it will not succumb to pressure."
Jack Straw, for his part, emphasized the need for development of relations between Tehran and London, and presented his views on Iran's nuclear program and regional developments.
Heading a British parliamentary delegation, Straw arrived in Tehran on Monday as part of a broader effort to improve Tehran-London relations.
Straw, former foreign secretary and the head of Iran-Britain Friendship Group in the British parliament, had also a meeting on Tuesday with a group of Iranian legislators, all members of the Iranian parliament's Iran-Britain Friendship Group.