Mursi's Trial Resumes in Egypt
TEHRAN (Tasnim) - Deposed Egyptian President Mohamed Mursi is standing trial for the incitement of violence relating to the deaths of protesters outside the presidential palace during clashes in December 2012.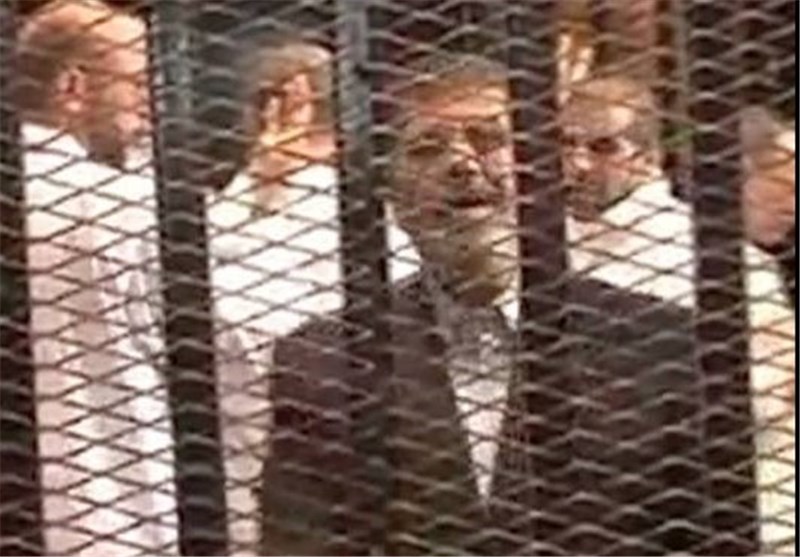 Up to 20,000 security forces were on high alert on Tuesday for Mursi's court appearance in the capital Cairo, according to the interior ministry.
The trial is taking place at Cairo's police academy.
Mursi first appeared in court in early November, insisting that he was still president and being held against his will.
A state prosecutor charged Mursi and 14 other Muslim Brotherhood members in 2013 with "committing acts of violence, and inciting killing and thuggery", the state news agency reported.
The charges relate to violence in which around a dozen people were killed outside the presidential palace in December 2012, after Mursi had ignited protesters' rage with a decree that expanded his powers.
The episode was one of the most violent of his presidency, Al Jazeera reported.
Tens of thousands of people gathered outside the presidency to demonstrate against Mursi's decree and a divisive that he planned to put to a referendum.
The Brotherhood's leaders called on members to rally to his defence. The state news agency said they were now accused of mobilising their followers to forcibly disperse the protesters after the security forces rejected Mursi's orders to do so.
The charges against Mursi include inciting his followers and assistants to commit crimes of premeditated murder and use violence and thuggery.
Mursi was toppled just a year into his term following mass protests fuelled by anger at economic mismanagement and Brotherhood attempts to entrench its power.