Leader: Recent Talks Unveil US Enmity, Helplessness
TEHRAN (Tasnim) – Supreme Leader of the Islamic Revolution Ayatollah Seyed Ali Khamenei said the recent nuclear talks showed that the US has not relinquished its hostility towards Iran, and added that Washington has failed to harm the country thanks to the resistance showed by the Iranian nation.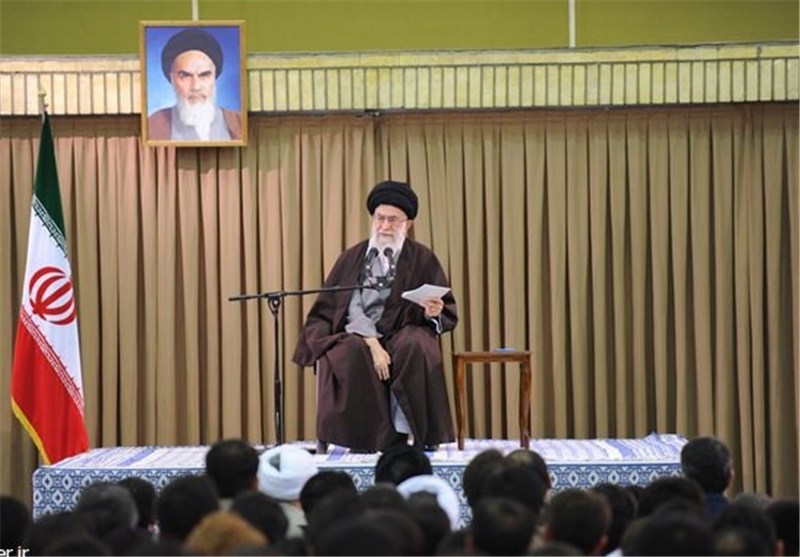 "One of the good results of the recent (nuclear) negotiations (between Iran and the group of six world powers) was that the hostility of the US officials towards Iran and the Iranians and Islam and the Muslims was revealed," Ayatollah Khamenei stated on Thursday, adding that the enmity was quite evident in tones and comments of the US officials in the recent weeks.
Addressing thousands of clerics and people from the holy city of Qom, the Leader said the fact that the Americans refuse to act against Iran is "due to their inability (to act) and not the absence of the enmity."
The recent talks unveiled both the US enmity and their helplessness, Ayatollah Khamenei reiterated.
The Leader further reiterated the enemies' continued wrong assessment of the Iranian nation, and dismissed the West's claims that the pressures imposed on Iran have brought the country to the negotiation table.
"When the enemy encounters a resolved and resistant nation, it will have no way but to retreat. The assumption that the Iranian nation came to the negotiation table under the pressure of sanctions is an absolute mistake."
The remarks by the Leader came as Seyed Abbas Araqchi, the Iranian deputy foreign minister and one of the country's top negotiators, arrived in Geneva today and is likely to hold a trilateral meeting with Deputy EU Foreign Policy Chief Helga Schmid and the US representative in nuclear talks, Wendy Sherman.
The visit by Iranian Deputy Foreign Minister for Legal and International Affairs to Geneva, Switzerland, is aimed at resolving the issues remained unresolved during earlier expert-level talks between Iran and the Group 5+1 (the US, Britain, France, Russia, China and Germany).
Speaking on Thursday, Araqchi said he may have a trilateral meeting with EU's Schmid and US Under Secretary of State for Political Affairs Wendy Sherman in Geneva today.