US Activists Mark Gitmo Anniversary by Rallying for Closure
TEHRAN (Tasnim) - Saturday marks twelve years since the first detainees arrived at Guantanamo Bay prison on January 11, 2002. On the anniversary US human rights activists marched to the White House demanding the facility's closure.
January, 12, 2014 - 15:51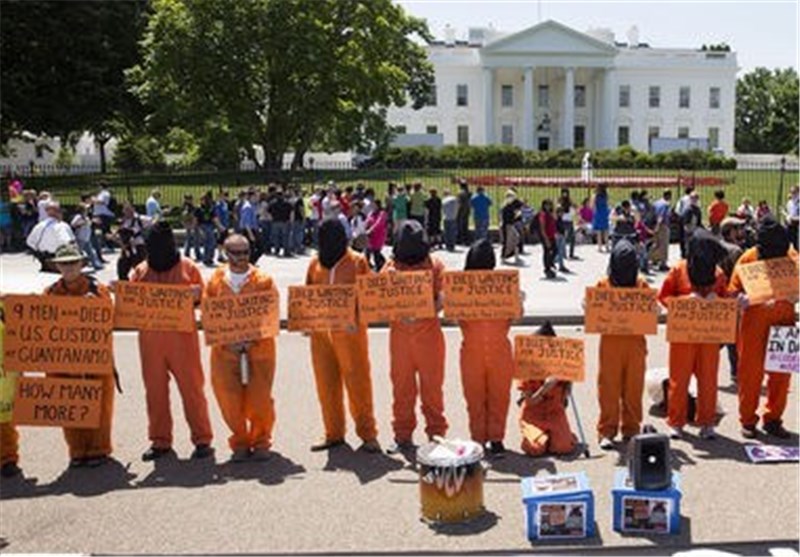 This time, the annual Day of Action to shut Guantanamo down comes as quite a number of prisoners, cleared for release, have eventually seen their transfers from the facility carried out. Human rights activists still want to see the process sped up.
"We have seen 11 prisoners released between August and December last year, compared to just 5 men in the whole of the previous 3 years," Andy Worthington, investigative journalist and Guantanamo expert told RT.
"So it's movement, but it would be unwise to think that we're nearly there. There are 155 men still in Guantanamo".
77 of those men have been cleared for release. In the most recent case, a Yemeni, who has been at Guantanamo since the very first year of its existence, was earlier this week approved for transfer by a Periodic Review Board (PRB), a panel consisting of senior defense and intelligence officials, which is supposed to eventually hold hearings on all the indefinitely detained inmates.
More than 100 people gathered in Washington to march to the White House, demanding that the Obama administration facilitate the cleared prisoners' release, local media reported. They believe the president can no longer justify the existence of Guantanamo by having his hands tied by Congress, as a recently signed defense bill has eased up the process for transferring prisoners from the detention center.
More than a dozen men dressed up in orange jump suits and had black bags over their heads to resemble Guantanamo's prison uniforms, RT reported.
"President Obama has the power to close Guantanamo, and the new National Defense Authorization Act (2014 NDAA) just approved by Congress makes it even easier for him to do so," a leaflet calling for people to take part in the anti-Guantanamo march reads.
The Guantanamo anniversary has not passed unnoticed outside the US, as the date prompted fresh criticism from the Organization for Security and Co-operation in Europe (OSCE).
Out of 779 detainees held at Guantanamo in the past 12 years, only 7 have actually been convicted and sentenced. Frustration with the indefinite detention was at the core of last year's massive and months-long hunger strike, which was initially sparked by accusations that guards had interfered with the inmates' personal belongings; this included the mishandling of Korans.