Thai Opposition Protesters Target Government Offices
TEHRAN (Tasnim) - Thousands of Thai opposition protesters marched on government buildings in the capital on Tuesday as part of their "shutdown" of Bangkok aimed at derailing elections and toppling the government.
January, 14, 2014 - 12:50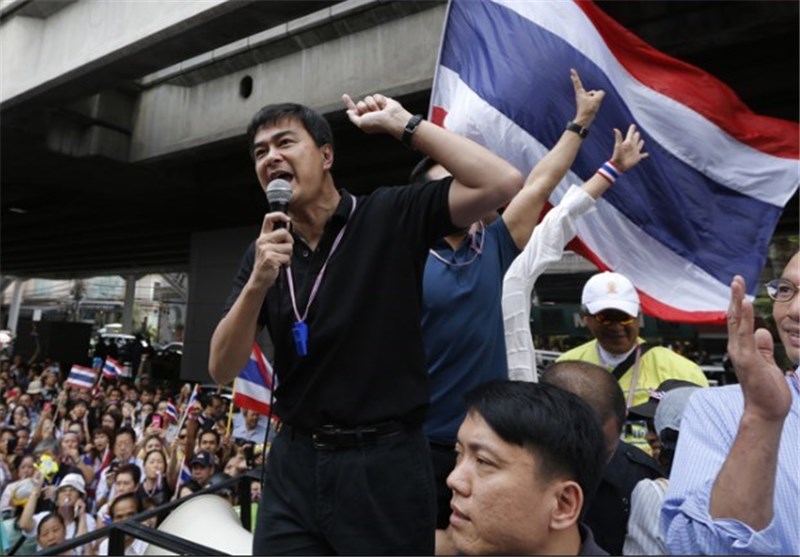 Demonstrators threatened to stop officials from going to work at several key ministries to intensify pressure on Prime Minister Yingluck Shinawatra.
The protesters, led by a former opposition MP, want Yingluck to resign to make way for an unelected "people's council" that would oversee reforms to curb the political dominance of her billionaire family.
Their two-month rallies have pushed the government to call snap February 2 polls, but the protesters have rejected the vote in the latest twist of a political crisis that has gripped Thailand since Yingluck's brother Thaksin was ousted in a military coup seven years ago.
Several thousand demonstrators gathered outside the Thai customs department early Tuesday to try to prevent staff from going to work.
"We have closed the entire department, but not customs checkpoints. We will see how the situation develops," customs director Rakop Srisupaat told AFP.
Protesters on trucks festooned with Thai flags cheered and danced at the peaceful rally in an area of Bangkok home to many of the capital's working class Thaksin supporters.
They also planned to surround the labor and the information and communications technology ministries.
Many key junctions remained blocked in the Thai capital with loudspeakers broadcasting bombastic speeches into the city air after protesters launched the shutdown on Monday, causing widespread disruption to Bangkok's central retail and hotel districts.
The well-organised protest movement has vowed to occupy parts of the city of 12 million people until Yingluck quits, threatening to disrupt the election which it fears will only return the Shinawatra clan to power.