Iran's FM Urges Political Resolve to Root Out Terrorism
TEHRAN (Tasnim) – Iranian foreign minister said the countries should focus their political resolve on countering terrorism and extremism, noting that a realistic attitude towards the issue is the part and parcel of counter-terrorism efforts.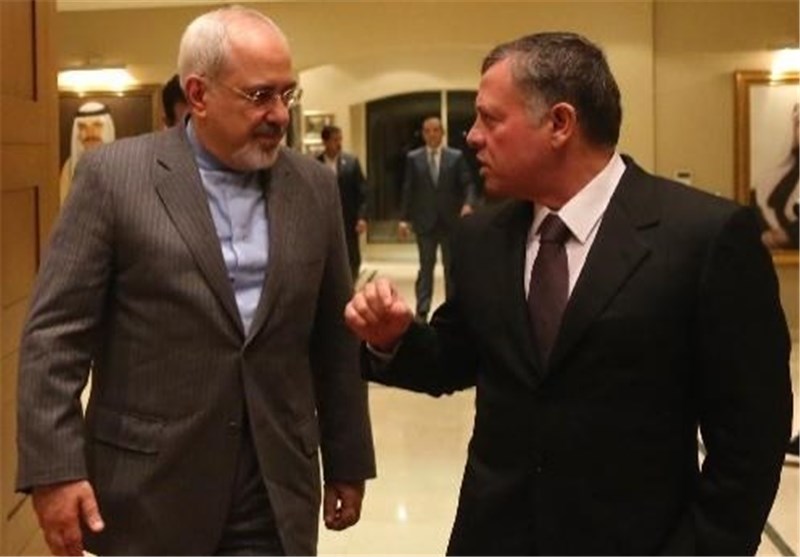 "The political resolve of the countries should be focused on uprooting terrorism and extremism, and realism should be the basic principle of eradicating extremism and sectarianism," Mohammad Javad Zarif said in a meeting with Jordan's King Abdullah II on Tuesday.
The top Iranian diplomat arrived in the Jordanian capital of Amman on Tuesday, as part of his tour of the Middle East, which took him earlier to Lebanon and Iraq.
Elsewhere in his remarks, Zarif once again expressed Tehran's preparedness to help settle the Syrian crisis through political solutions.
He also explored avenues for expanding Tehran-Amman bilateral relations in the whole fields of mutual interest.
The Jordanian king, for his part, emphasized the need for a comprehensive political solution to the prolonged crisis in Syria, noting that the war-torn country's unity and territorial integrity should be maintained.
"We should try to throw tensions out of the region," King Abdullah II added.
The three-year-old crisis in Syria has concerned a lot of countries in the region, as the Geneva 2 conference is to be held later this month to find a way out of the impasse in the Arab country.
The much delayed Geneva 2 conference on Syria is set to be held on January 22 in the Swiss city of Montreux.
The conference would bring representatives from Syria's government and elements of the opposition to negotiate an end to the fighting that has raged on since March 2011.
Geneva 2 is the second sequel of Geneva 1 conference held in June 2012 in which international parties laid out a peace plan for Syria that calls for a transitional governing body. It left open the question of whether Syrian President Bashar al-Assad must leave power.
The final communiqué issued on 30 June 2012, following the meeting of the so-called Action Group for Syria called for an immediate cessation of violence and the establishment of a transitional government that could include officials serving under President Bashar al-Assad and members of the opposition.