Iranian, Jordanian FMs Discuss Enhancement of Ties
TEHRAN (Tasnim) – Iranian Foreign Minister Mohammad Javad Zarif and his Jordanian counterpart explored avenues for bolstering and reinvigorating bilateral ties between Tehran and Amman in different grounds.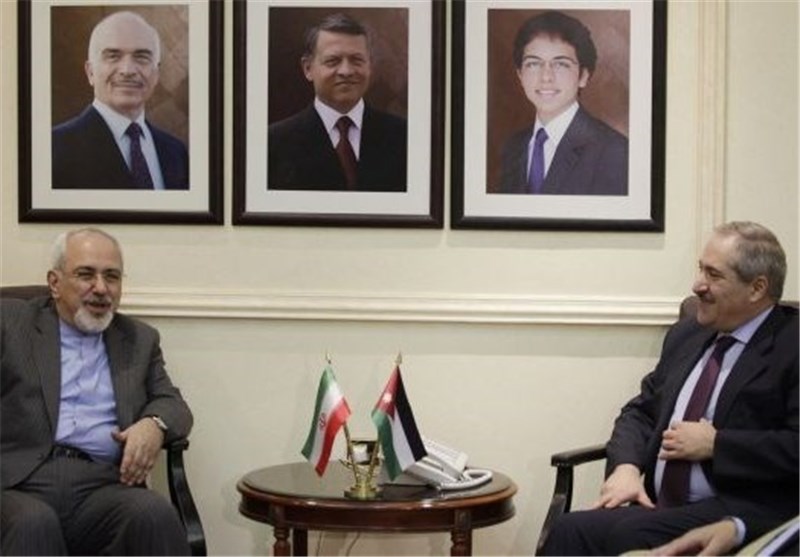 In a meeting with Jordan's Foreign Minister Nasser Judeh in Amman on Tuesday evening, Zarif touched on the grounds for mutual cooperation between Iran and Jordan, and stressed the need for the promotion of bilateral ties in diverse fields.
He said the two countries can boost their parliamentary cooperation, noting that economic ties could also thrive by activating a joint commission for economic cooperation.
Zarif also pointed to Iran's presidency of the Non-Aligned Movement (NAM), and added that the two countries can join hands in the organization to address the issue of Palestine, which he described as the "fundamental problem" in the entire Islamic world.
The Iranian minister further touched on the prolonged crisis in Syria, saying the Syrians are the only people who should shape their political destiny and future.
Judeh, for his part, referred to war-torn Syria as a "sad scene", and placed the emphasis on resolution of the Syrian crisis through political approaches.
Syria's war that started in 2011 has killed over 100,000 people and forced more than 2 million to flee abroad, according to the UN. Another 4 million have been displaced inside the country.
Meanwhile, a much delayed gathering, known as the Geneva 2 peace conference on Syria is set to be held on January 22 in the Swiss city of Montreux.
The conference would bring representatives from Syria's government and elements of the opposition to negotiate an end to the fighting that has raged on since March 2011.
Geneva 2 is the second sequel of Geneva 1 conference held in June 2012 in which international parties laid out a peace plan for Syria that calls for a transitional governing body. It left open the question of whether Syrian President Bashar al-Assad must leave power.
The final communiqué issued on 30 June 2012, following the meeting of the so-called Action Group for Syria called for an immediate cessation of violence and the establishment of a transitional government that could include officials serving under President Bashar al-Assad and members of the opposition.