Egypt Enters Second Day of Constitution Vote amid Protests
TEHRAN (Tasnim)- Egyptians queued for the second day in front of polling booths to decide on the country's new referendum, as protests broke out against military rule for a second day.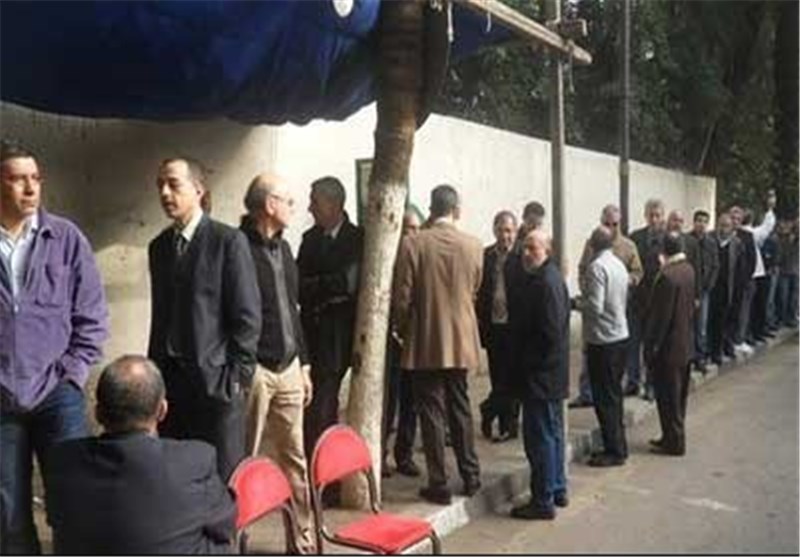 About 53 million Egyptians are eligible to vote for the new constitution, the result of which could see the defence minister, General Abdel Fattah el-Sisi, launch a presidential bid.
Anti-coup protesters, who blame Sisi for the removal of Mohamed Mursi from the presidency in July, rallied early on Wednesday in suburbs of Cairo, and Fayoum, in the south of Egypt.
The possibility of bloodshed is high, after at least eleven protesters were killed on Tuesday and 28 others were wounded when security forces intercepted rallies across the country, according to the health ministry.
Meanwhile, local television channels showed footage on Tuesday of jubilant groups of voters dancing and celebrating as they carried posters of Sisi, Al Jazeera reported.
Tuesday's events, of violence and celebration at polling stations, outline the polarisation that has gripped the country for years, a situation exacerbated since Mursi's removal.
The army-placed government, determined to stifle any interruption of the vote, deployed about 200,000 security forces and about 160,000 army personnel to watch over the polling stations.
However, shortly before polls opened on Tuesday, there was a small explosion outside the courthouse in Imbaba, a neighbourhood on the west bank of Cairo. Nobody was injured in the blast, which police said was caused by a bomb left in a bag outside the court.
The violence highlighted the government's precarious grip on the most populous Arab nation, still reeling from Mursi's departure and a bloody crackdown on his supporters.
The charter is almost certain to be approved: every referendum in Egypt's modern history has been passed by a comfortable margin and not a single influential political group is pushing a "no" vote.
At one polling station for women, dozens queued to cast their ballots, some waving Egyptian flags and chanting pro-military slogans.
"We must be with our police and army so that no one can terrorise us. Even if a bomb exploded in my polling station, I would vote," said Salwa Abdel Fattah, a 50-year-old gynaecologist.
In interviews at a half-dozen polling stations across Cairo on Tuesday, not a single voter said they opposed the constitution.
Only a few voters said they would endorse the charter because of specific provisions. Most wanted to show their support for Sisi.