Iranian, Syrian, Russian FMs Hold Trilateral Meeting in Moscow
TEHRAN (Tasnim) – Foreign ministers of Iran, Russia and Syria held a trilateral meeting in the Russian capital of Moscow on Thursday in order to coordinate their respective countries' policies on the upcoming Geneva 2 peace conference on Syria.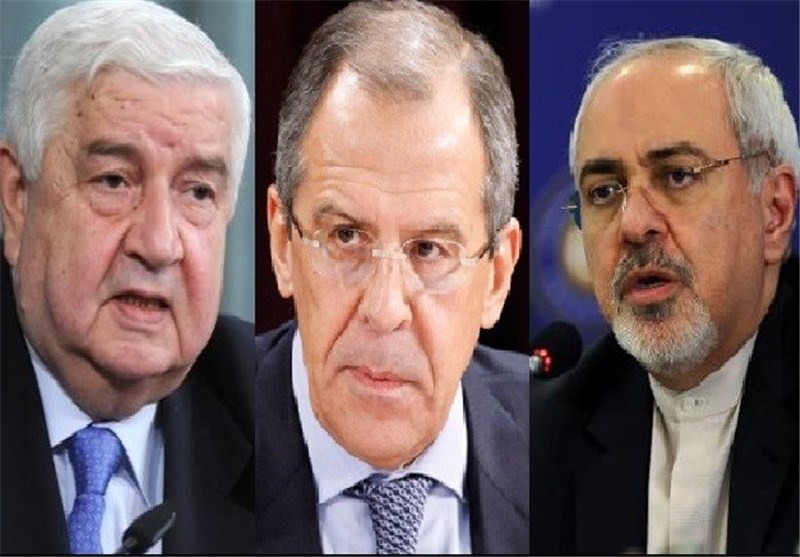 Iranian Foreign Minister Mohammad Javad Zarif and his Syrian counterpart Walid al-Muallem arrived in Moscow in same flight Wednesday evening for bilateral and trilateral talks on issues of mutual interest, including the Syrian crisis.
Media reports said on Thursday, the trilateral meeting was held behind closed doors.
The talks come ahead of the long-awaited Geneva 2 peace conference on Syria.
The conference is scheduled to be held in Switzerland in two parts. On January 22, the opening session of the event will be in the Swiss city of Montreux and then it will be moved to the UN office in Geneva on January 24.
Upon arriving at Moscow's Vnukovo International Airport on Wednesday night, Zarif had said he will pursue earlier talks between Iranian President Hassan Rouhani and his Russian counterpart, Vladimir Putin, on bilateral and international issues.
"In meeting with our Russian allies, we will continue discussions over the nuclear issue and the last round of talks between Iran and the P5+1 (the five permanent UN Security Council members plus Germany) that will commence in the near future," Zarif said, stressing Moscow's role in the upcoming nuclear talks.
Iran and the six major world powers agreed last week that a landmark nuclear deal, reached in Geneva last November, would come into force on January 20, with the two sides gearing up to take balanced, proportional steps in a period of six months to pave the way for a final solution.