Turkish Police Fire Water Cannon at Rally against 'Internet Censorship' Law
TEHRAN (Tasnim) - Police used water cannon and fired teargas to disperse hundreds of protesters that gathered in Istanbul's central Taksim Square on Saturday for a rally calling against a bill that would tighten government control over the Internet.
January, 19, 2014 - 15:57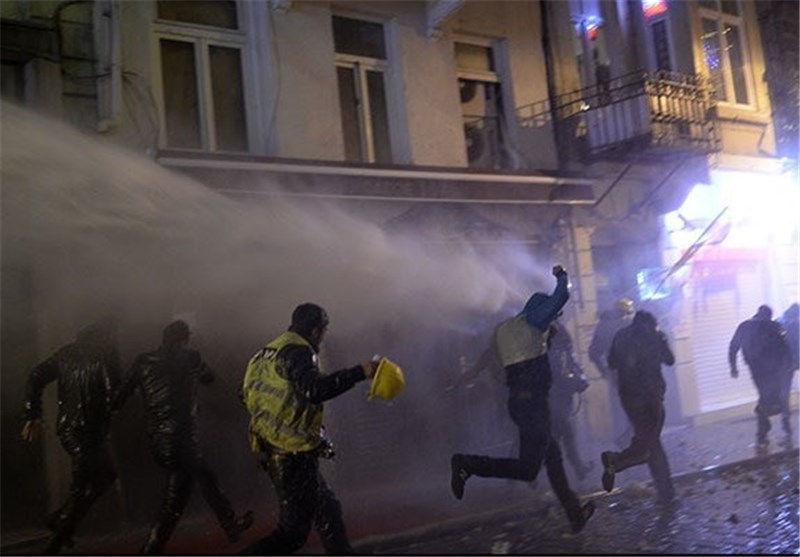 Protesters ran to the side streets to escape the water cannons and teargas that police used on the peaceful demonstration.
Smaller rallies have been held around Turkey including the capital Ankara and coastal city of Izmir.
In Ankara about 300 protesters gathered chanting slogans opposing the government and the internet bill, calling the Turkish prime minister 'a dictator.'
Activists have called for protests against the law further limiting the use of the Internet and social media.
The bill that includes the controversial law was backed by a Turkish parliamentary committee on Thursday. It will be discussed by the National Assembly next week, RT reported.
Prepared by the Ministry of Family and Social Policy the bill amends Law No. 5651, widely known as Turkey's Internet Law that came into effect in July 2007.
The new legislation allows government ministers to block websites deemed to infringe privacy, as well as force internet providers to retain information on their users, for up to two years. The bill also mandates ISPs to restrict access to proxy sites, making circumventing the censorship nearly impossible.
The new legislation also raises fines for not removing the content requested by the authorities. If the content is not removed within 24 hours after the request, it will be blocked by the Telecommunications Directorate (TİB). Appealing against blocking would only be possible after the event. "The law also allows URL-based blocking of websites and the users will not be able to access these by changing their DNS settings," Hurriyet explains.