Obama: Spying Won't Damage Ties with Germany
TEHRAN (Tasnim) - President Barack Obama told a German television in an interview that he would not allow America's massive communications surveillance capability to damage relations with Germany and other close US allies.
January, 19, 2014 - 16:37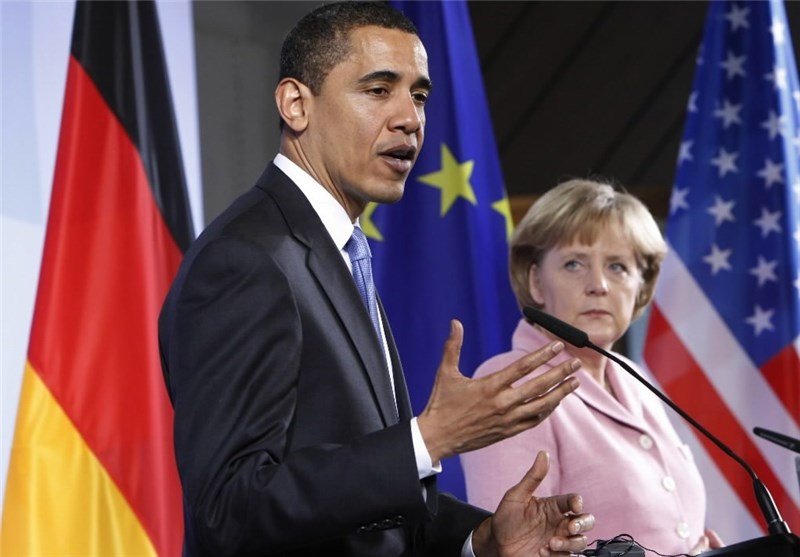 Obama made the pledge in a rare interview with Germany's ZDF television, in an apparent step to repair the damage to America's relations with Germany, after reports of extensive US spying on European citizens, including German Chancellor Angela Merkel.
Merkel accused the US of a grave breach of trust after reports about her cellphone being tapped by the US National Security Agency emerged in October. Her government has been pressing for a "no spying" agreement with Washington since then.
Her centre-right party's foreign policy spokesman, Philipp Missfelder, told reporters on Thursday that revelations about US spying in Germany had plunged relations with Washington to their lowest level in more than a decade.
During the 16-minute interview, Obama acknowledged the anger in Germany and elsewhere ignited by spy revelations, after the leak of documents obtained by former NSA analyst Edward Snowden to news media.
Obama said it would take time to restore trust, although he defended US surveillance as necessary to protect the US and its allies, including Germany.
"Our intelligence agencies, like German intelligence agencies, and every intelligence agency out there, will continue to be interested in the government intentions of countries around the world. That's not going to change," he said.
"And there is no point in having an intelligence service if you are restricted to the things that you can read in the New York Times or Der Spiegel.
"The truth of the matter is that by definition the job of intelligence is to find out: Well, what are folks thinking? What are they doing?", he said.
Obama said that before the revelations he had forged a close working relationship with Merkel, and that he could not allow US surveillance operations to damage that trust.
"As long as I am president of the United States, the German chancellor need not worry about that," Obama said, according to a simultaneous German translation as he spoke.
The interview was broadcast a day after Obama ordered new limits on the way US intelligence accesses phone records from hundreds of millions of Americans, and moved toward eventually stripping the massive data collection from the government's hands.