Zarif: Planning Underway for Rouhani's Visit to Turkmenistan
TEHRAN (Tasnim) – Iran's Foreign Minister Mohammad Javad Zarif said preparatory measures for President Hassan Rouhani's possible visit to the Central Asian state is on his agenda during the visit to the Turkmen capital.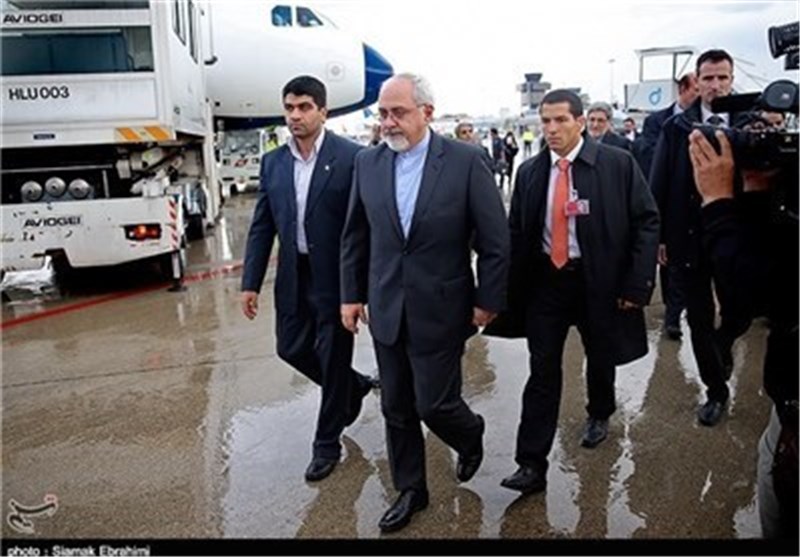 Speaking to reporters upon his arrival at Ashgabat, Zarif said due to high significance position of the regional countries in Iran's foreign policy, President Hassan Rouhani wishes to visit the regional countries.
He added that Turkmenistan's President Gurbanguly Berdimuhammedov has already invited his Iranian counterpart to pay an official visit to his country.
"We are planning for it (visit)," he noted.
He added that Iran's new administration attaches great importance to the country's ties with the neighboring states.
Zarif said he is in Turkmenistan to attend the 13th meeting of the Joint Economic Cooperation Commission of Iran and Turkmenistan.
Zarif also said in addition to bilateral relation, the two countries will exchange viewpoints on the most important regional and international developments, arguing that such consultations provide a good chance for further expansion of bilateral relations.
Tehran has the largest volume of trade exchange with Turkmenistan after Russia.
The value of trade between Iran and Turkmenistan is estimated to be around $5bln a year, and Iranian and Turkmen officials have expressed the hope that the figure could reach $10bln in the coming years.
On August 5, Iran's Rouhani had also praised the close ties between Iran and Turkmenistan, and emphasized the need for further enhancement of bilateral relations between the two nations.
In a meeting with his Turkmen counterpart at the time, President Rouhani pointed to amicable relations between Tehran and Ashgabat, saying, "Bilateral relations in economic, political and cultural fields will further develop in the future."
Meanwhile, the 10th session of Iran-Turkmenistan joint consular, border and customs commission wrapped up in Tehran on January 15 with a Memorandum of Understanding (MoU) between the two neighboring countries on consular and border cooperation.
The MoU was signed by Iranian Deputy Foreign Minister for Consular, Parliamentary and Iranian Expatriate Affairs Hassan Qashqavi and Turkmen Deputy Foreign Minister Vafa Hajiyev, who co-chaired the commission.
During the two-day event, the Iranian and Turkmen officials studied ways for further expanding bilateral interactions.