Iran to Attend Syria Conference without Preconditions: Spokeswoman
TEHRAN (Tasnim) – Iran's foreign ministry spokeswoman on Monday reiterated that Tehran would never accept any precondition for attending the Geneva 2 peace conference on Syria, noting that the country will take part in the gathering at the formal invitation of the United Nations.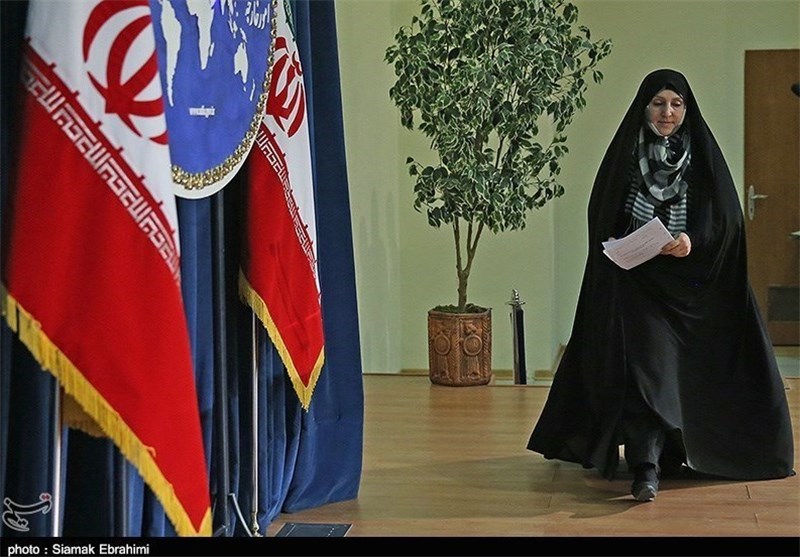 "(As) we have announced earlier, we do not accept any precondition for the attendance and participation at the Geneva 2 (conference), and according to the official invitation, Iran will take part in the conference without preconditions," Marziyeh Afkham said on Monday.
She also reiterated that Tehran would support any political solution to the prolonged crisis in Syria, adding that Iran was among the first countries that has always insisted on "dialogue and peaceful approaches" as the sole way out of the impasse in the Arab country.
Her remarks came after the United Nations Secretary General Ban Ki-moon said he has officially invited Iran to take part in the upcoming Geneva 2 peace conference on Syria.
Preliminary talks in a meeting of foreign ministers are due to open in the Swiss city of Montreux on Wednesday and then continue at the UN headquarters in Geneva on January 24 after a one-day break.
Ban noted that he has invited Iran to attend the first day of talks on January 22, and that Tehran had earlier pledged to play a "positive and constructive role" if it was asked to participate.
The UN chief also said he had spoken at length with Iran's Foreign Minister Mohammad Javad Zarif in recent days and that he believed Tehran supported for the Geneva 2012 plan.
"He has assured me that like all the other countries invited to the opening day discussions in Montreux, Iran understands that the basis of the talks is the full implementation of the 30 June, 2012, Geneva communiqué," Ban said.
He also noted that the Iranian top diplomat has "pledged that Iran would play a positive and constructive role in Montreux."
"Therefore as convener and host of the conference I have decided to issue an invitation to Iran to participate," Ban said. "Iran needs to participate as one of the important neighboring countries."
In the meantime, Washington suggested it could support Iran's participation if it explicitly declares its support for a June 2012 plan for a political transition in Syria.
"This is something Iran has never done publicly and something we have long made clear is required," US State Department spokeswoman Jen Psaki said in a statement.
"If Iran does not fully and publicly accept the Geneva communiqué, the invitation must be rescinded," she added.
The much delayed Geneva 2 peace conference on Syria would bring representatives from Syria's government and elements of the opposition to negotiate an end to the fighting that has raged on since March 2011.
Syria's war that started in 2011 has killed over 100,000 people and forced more than 2 million to flee abroad, according to the UN. Another 4 million have been displaced inside the country.
Geneva 2 is the second sequel of Geneva 1 conference held in June 2012 in which international parties laid out a peace plan for Syria that calls for a transitional governing body. It left open the question of whether Syrian President Bashar al-Assad must leave power.
The final communiqué issued on 30 June 2012, following the meeting of the so-called Action Group for Syria called for an immediate cessation of violence and the establishment of a transitional government that could include officials serving under President Bashar al-Assad and members of the opposition.