Thai Capital under Emergency as Pro-Gov't Leader Shot, Wounded in Northeast
TEHRAN (Tasnim) - A pro-government leader was shot and wounded on Wednesday in Thailand's northeast, a stronghold of Prime Minister Yingluck Shinawatra, as a state of emergency began in and around the capital Bangkok where protesters are trying to force her to resign.
January, 22, 2014 - 12:51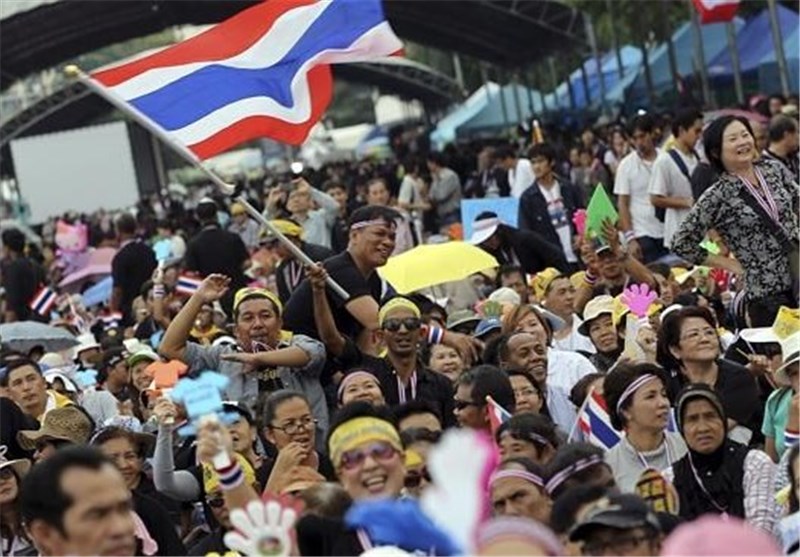 The government issued the 60-day emergency decree late on Tuesday, handing security agencies wide powers to detain suspects, impose a curfew and limit gatherings.
Officials said it was aimed at preventing an escalation of the protests that have gripped the capital for more than two months and brought parts of the center to a halt.
Bangkok appeared normal and people were going about their business as usual with police making no attempt to break up the protests, including one outside a complex where Yingluck was working.
But highlighting the risk of the political deadlock turning violent, "red shirt" leader Kwanchai Praipana, who had warned of a nationwide "fight" if the military launched a coup, was wounded in the arm and leg in a drive-by shooting at his home in the northeastern town of Udon Thani.
Police said they believed it was politically motivated, Reuters reported.
"From the way the assailants fired, they obviously didn't want him to live," his wife, Arporn Sarakham, told Reuters. Police said they had found 39 bullet cases at the house.
Kwanchai Praipana leads thousands of pro-government supporters in Udon Thani province.
On Tuesday, he told Reuters that if the military attempted a coup: "I can assure you, on behalf of the 20 provinces in the northeast, that we will fight. The country will be set alight if the soldiers come out."
So far the military, which has been involved in 18 actual or attempted coups in the past 81 years, has kept out of the fray. The police are charged with imposing the state of emergency, under orders from Yingluck to treat protesters against her government with patience.