Flood, Landslide in Central Java, Indonesia Kill 13, Displace 4,000
TEHRAN (Tasnim) - Widespread floods and landslide caused by consecutive days of heavy downpours have wreaked havoc on Kudus district of Central Java, leaving 13 people dead and forcing 4,000 residents to evacuate, a local official said on Wednesday.
January, 22, 2014 - 18:59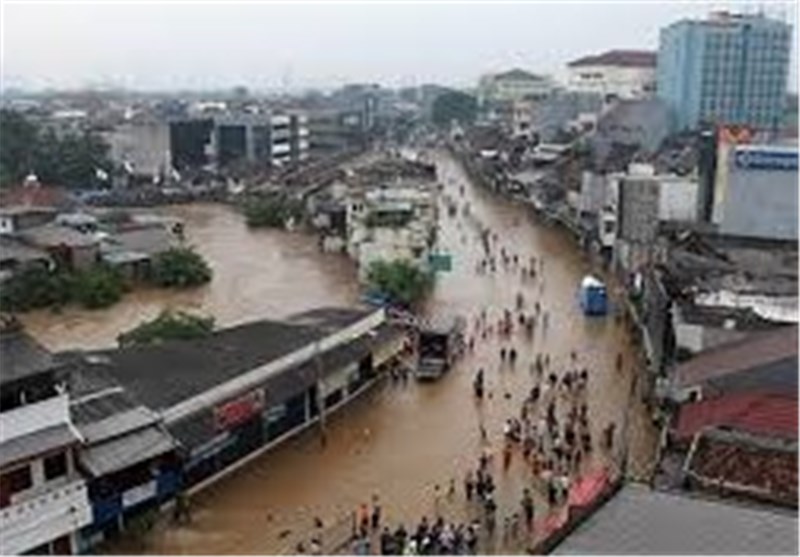 Five rivers have been bloated by torrential rain since Sunday and burst their banks, hence swamping several spots at the district, said P. Jumadi, head of the disaster agency of the district.
On Wednesday, some of the residents were still wading through 1.5-meter deep water to evacuation centers, many of which are placed in village administration offices, said Jumadi.
The downpours also incurred landslides in Menawan village of Gebog sub-district, seriously damaging two houses, said Jumadi.
"As many as 4,025 people are taking shelters in 20 evacuation centers," he told Xinhua over phone from the district.
"The rain also triggered landslides. Piles of soils slid off from a hill and slammed two houses at the downside at midnight on Monday. All 12 people were killed in one of the houses and another person in the other house," said Jumadi.
On Wednesday, soldiers and villagers were still trying to retrieve the corpses from the wreckage of the crumpled houses, he said.
"So far they have retrieved two bodies and with bare hands they dig the soil to find out the others," said Jumadi.
Elsewhere in Karawang of West Java, floods have receded and more than 10,000 evacuees have returned homes, and in the Indonesian capital of Jakarta, some of the displaced persons have started returning homes to clean their houses as the floods recede, but they are still reluctant to return at night, according to officials.