Thai Court Set to Rule on Whether February Election Goes Ahead
TEHRAN (Tasnim) - Thailand's Constitutional Court could rule on Friday whether a February 2 election can go ahead, though whatever it decides there is little sign of a quick end to the political crisis dragging down Southeast Asia's second biggest economy.
January, 24, 2014 - 13:31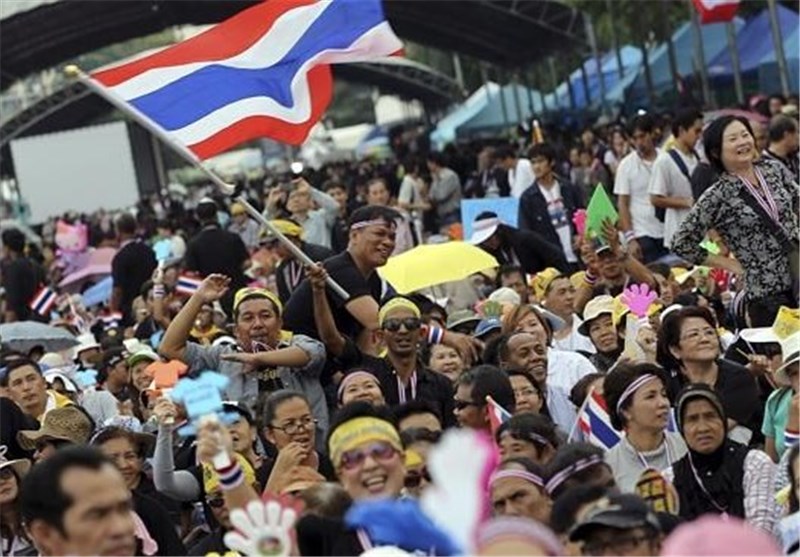 Anti-government firebrand Suthep Thaugsuban, who has called for a boycott of the election, told his whistle-blowing supporters at a rally on Thursday night to disrupt the vote if it does take place.
"I'm telling you now, you must not get ready to vote. You must not go because we will close every road," Suthep told the rally.
"I want you to know that the (anti-government movement) ... is ready in every province. There is no way this election will take place," he said.
The Constitutional Court deferred a ruling on Thursday whether the February vote can be postponed. The Election Commission says the country is too volatile to hold a general election now and that technicalities mean it is bound to result in a parliament with too few lawmakers to form a quorum.
The government says the decree to hold the election on that date has been signed by the king and cannot be changed, Reuters reported.
Even if the main opposition party does compete, political analysts say Prime Minister Yingluck Shinawatra would almost certainly win the vote, which she called to win a fresh mandate for her government in the face of the protests trying to push her from power.
The protests are the latest eruption of an eight-year-long tussle for power that in broad terms sets Bangkok's middle class and the royalist establishment that Suthep claims to represent against the mostly poor, rural supporters of Yingluck and her brother, ex-premier Thaksin Shinawatra.
Thaksin fled into exile in 2008 to avoid a jail sentence for abuse of power, after being toppled by the army in 2006.
The protesters accuse him and his sister of corruption and nepotism and want a "people's council" to take over the running of the country to introduce large-scale, but so far vaguely specified, reforms.
The government has imposed a state of emergency that gives it sweeping powers to make arrests, set a curfew and prevent protests.