Iranian, Swiss Presidents Meet in Davos, Discuss Syria Crisis
TEHRAN (Tasnim) – Iranian president and his Swiss counterpart discussed a range of issues on the sidelines of the World Economic Forum in Davos, with the prolonged crisis in Syria as one of the topics of their discussion.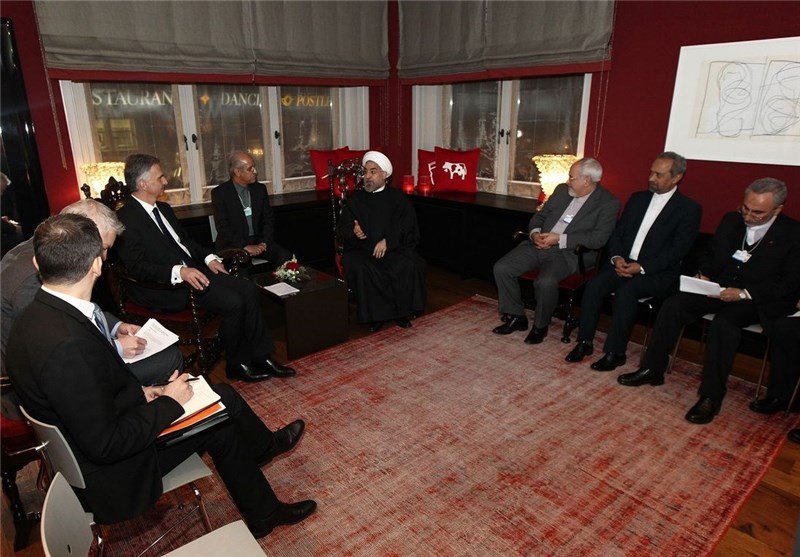 The Swiss city of Davos on Thursday saw the Iranian President Hassan Rouhani and his Swiss counterpart Didier Burkhalter, also the European country's foreign minister, hold a bilateral meeting on the sidelines of the 44th World Economic Forum (WEF).
The two presidents exchanged views on a range of issues, including the latest regional developments, the Syrian crisis in particular, as well as the nuclear talks between Iran and the six major world powers.
Pointing to the Islamic Republic's humanitarian aid, including food and medical supplies, for war-torn Syria, President Rouhani said, "Iran is ready to do its utmost to deliver the humanitarian aid from the other countries, particularly from Europe, to Syria."
Tehran has so far provided the Syrian nation with several consignments of humanitarian aid after the bloody crisis gripped the Arab country three years ago.
Syria's war that started in 2011 has killed over 130,000 people so far and forced more than 2 million to flee abroad. Another 4 million have been displaced inside the country.
Elsewhere in his remarks, the Iranian president expressed gratitude to Switzerland for its considerable efforts to play host to the WEF in Davos, noting that the success in hosting such gatherings was because Switzerland's impartiality in the global politics.
The 44th annual meeting of the World Economic Forum, now underway in Davos, is aimed at fighting global financial problems. Its theme focuses on "The Reshaping of the World: Consequences for Society, Politics and Business."
This year's annual summit aims to develop the insights, initiatives and actions necessary to respond to current and emerging challenges.
The WEF is an independent international organization committed to improving the state of the world by engaging business, political, academic and other leaders of society to shape global, regional and industry agendas.