President Rouhani: Tehran Shares Common Ground with Baku
TEHRAN (Tasnim) – Iran has a lot in common with the Republic of Azerbaijan, the Iranian president underlined, adding that Tehran is ready to develop ties with Baku and provide neighboring Azerbaijan with technical expertise in energy sector.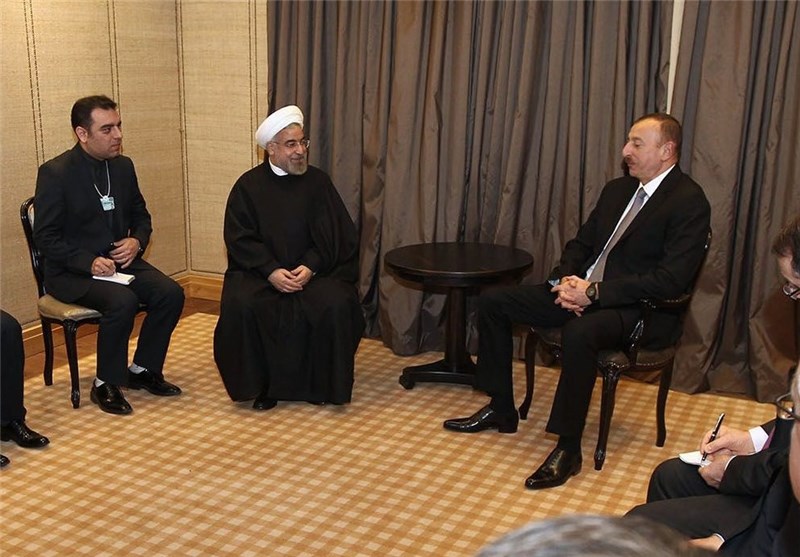 In a Thursday meeting with his Azeri counterpart Ilham Aliyev in Switzerland, Iranian President Hassan Rouhani pointed to the numerous commonalities between Tehran and Baku, something he said would make "the development and progress of the Azeri nation" highly significant for Iran.
The meeting took place on the sidelines of the 44th annual meeting of the World Economic Forum (WEF) in the Swiss city of Davos.
The Iranian chief executive further expressed the Islamic Republic's preparedness to furnish its northwestern neighbor, Azerbaijan Republic, with a range of technical expertise in various fields, including the oil, gas and petrochemical industries.

Rouhani also noted that expansion of economic and trade ties between Iran and Azerbaijan could in turn strengthen the interactions between them.
The Azeri president, for his part, touched on the high level of amicable relations between the two countries, and stressed, "The widespread cultural commonalities have linked the two Iranian and Azeri nations together."
Aliyev also made clear that "common culture and religion" can further pave the way for the expansion of close relations between Tehran and Baku.
The two presidents also exchanged viewpoints on current regional issues, cultural ties, the Iranian nuclear issue, and the development of bilateral business cooperation, and invited each other to visit their respective countries.