President's Concessions Fail to Quell Ukraine Riots
TEHRAN (Tasnim) - Riots continued overnight across Ukraine despite President Viktor Yanukovich promises to make key concessions, including the reshuffling of his government.
January, 25, 2014 - 12:07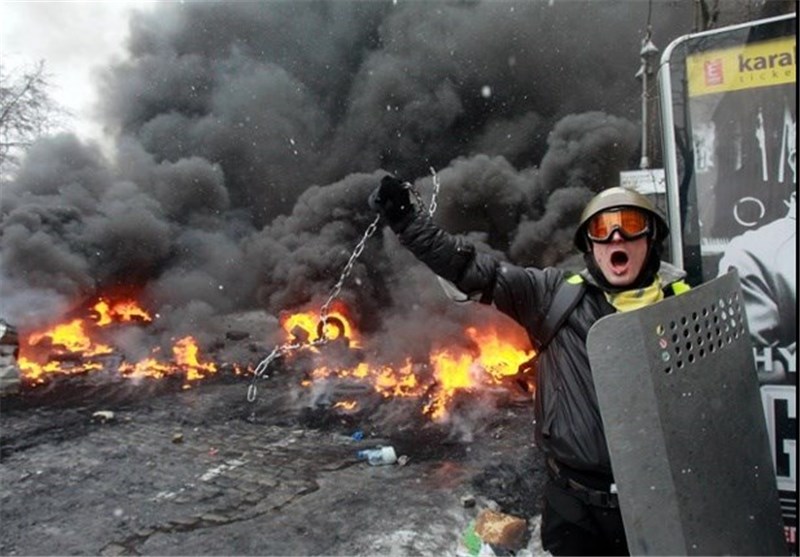 A top opposition leader said nothing short of the President's resignation would do.
Hours after the president's comments, huge fireballs lit up the night sky in central Kiev and plumes of thick black smoke rose from burning tires at giant barricades erected by protesters.
Clashes resumed at the barricades, which are just yards from lines of riot police and also made up of bags of ice and scraps of furniture, AFP reported.
Angry demonstrators hurled firebombs, rocks and fireworks at officers. Riot police responded with tear gas and several dozen protesters were rushed to a makeshift medical triage area to be treated.
"People shouldn't leave the streets," demonstrator Bogdana Pavelychko told France 24. "What we are expecting now is the resignation of Yanukovich and the overthrow of the regime."
The fighting had stopped earlier this week as opposition leaders entered into face-to-face talks with Yanukovich.
But hundreds of demonstrators in ski masks and helmets were still armed with sticks, stones and firebombs at the Kiev barricades.
After nearly two months of ignoring mass demonstrations calling for his ouster, Yanukovich offered to meet some of their demands, after crowds angered by the deaths of at least two protesters and allegations of abuse by authorities besieged government buildings in scores of cities in western Ukraine.
At a meeting with religious leaders, Yanukovich vowed that, at a special parliament meeting on Tuesday, he would push through changes to his Cabinet, grant amnesty to dozens of jailed activists and amend harsh anti-protest legislation.