Palestinians in West Bank Protest US Talks Proposals
TEHRAN (Tasnim) - Palestinians in the occupied West Bank protested against US Secretary of State John Kerry's proposals for the so-called peace talks with the Israeli regime.
January, 26, 2014 - 11:48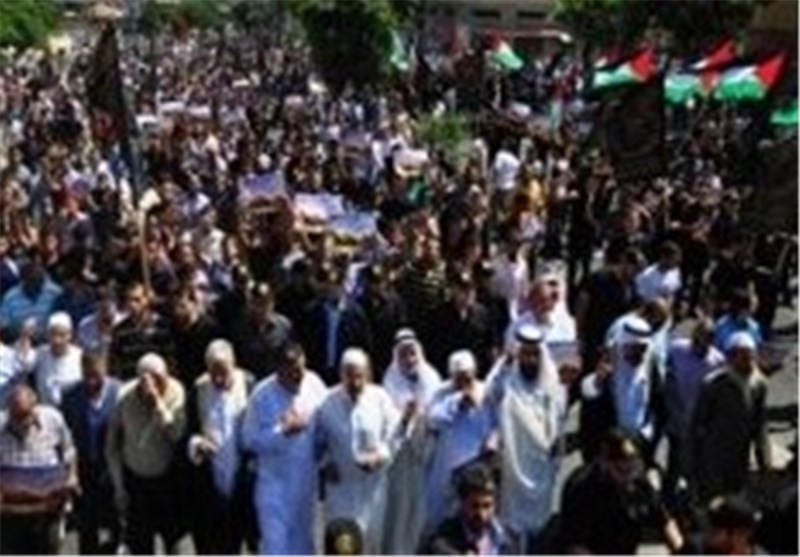 The rallies took place in the cities of Nablus and al-Khalil (Hebron) on Saturday with demonstrators shouting slogans, denouncing Kerry's proposals for peace.
They called on the Palestinian Authority to reject the proposals, which they say are aimed at destroying the Palestinian cause.
The protesters added that the talks deny the Palestinians right of return and allow expansion of illegal Israeli settlements in the occupied territories, Press TV reported.
Fahmi Shahin, with the Palestinian People's Party, said in an address to the demonstrators in al-Khalil that the Palestinian Authority must "immediately stop [so-called] peace negotiations and to reject the US sponsorship to these talks."
Washington's plan to "accept the Israeli occupation as a fact must be rejected."
The two sides of the US-brokered negotiations, which resumed in July 2013, between Israel and the Palestinian Authority have failed to make significant progress due to substantial disagreements.
Israel's settlement expansion policy is one of the sticking points in the talks.
Palestinians demand that East al-Quds (Jerusalem) be their capital and that Israel recognize borders based on the 1967 lines which existed before the Six-Day War, when Israel captured the West Bank and East al-Quds.
Tel Aviv refuses to return to the 1967 borders and is unwilling to discuss the issue of al-Quds.
Israel also wants to keep its military presence in the Jordan Valley under any deal, but the Palestinians say an international force should be stationed there to guarantee security.