Thousands Take Part in Paris 'Day of Anger' Targeting President Hollande
TEHRAN (Tasnim) - Several thousand people marched through central Paristvh in a "Day of Anger" directly targeting France's embattled President François Hollande and his policies, ending in both clashes and arrests.
January, 27, 2014 - 15:43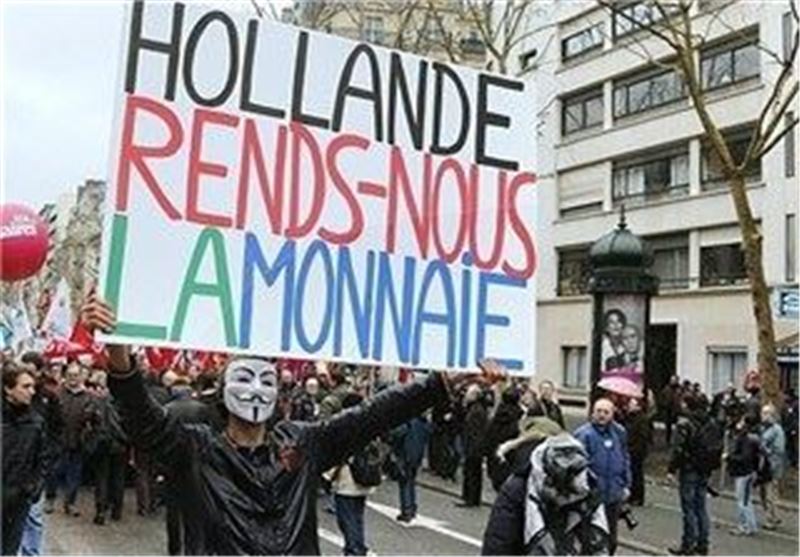 Security forces used tear gas to disperse several hundred youths who lobbed police with bottles, fireworks, iron bars and dustbins.
Police said at least 250 people had been arrested after the clashes, during which 19 officers were injured, one of these "potentially seriously", according to one police source.
Interior Minister Manuel Valls condemned the violence "by individuals, varied groups from the extreme and ultra-right, whose only goal is to create unrest".
While police estimated the turnout at around 17,000, organisers placed the figure at 120,000.
The protest was called by a motley group of some 50 small and mainly right-wing organizations, however failed to attract bigger anti-Hollande movements, AFP reported.
Carrying banners saying, "The French are angry!", the demonstrators called for a repeal of last year's law allowing gay marriage - one of Hollande's campaign pledges - and made a slew of other demands.
Some called for France's withdrawal from the European Union, a demand of the Eurosceptic right-wing National Front party, while others urged the respect of freedom of speech, a reference to the government's decision to ban a show by Dieudonné, a controversial comic whose sketches have been deemed anti-Semitic.
Many in the crowd complained about Hollande's tangled love life a day after the president announced his split with his partner Valérie Trierweiler following an affair with a younger actress.