President Rouhani Invites S. Korean Firms to Invest in Iran
TEHRAN (Tasnim) – There is now ample opportunity for foreign companies to gain the benefit of investing in Iran's market, the Iranian president stressed, and invited the South Korean firms to make investment in Iran's oil and gas industries.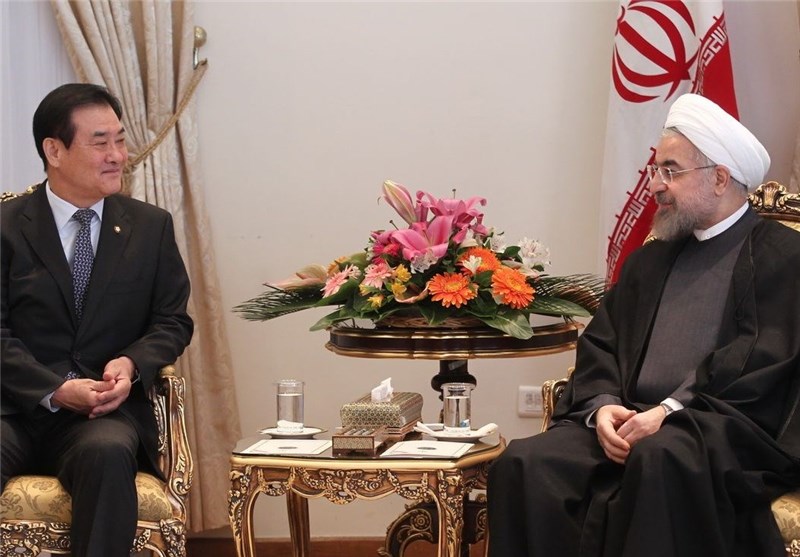 "I see no obstacle to the enhancement of the age-old economic, scientific, cultural and trade relations between Iran and South Korea, and the ground is prepared for the (South) Korean companies' investment and activities in various fields of (Iran's) oil, gas, energy and industry," President Rouhani said in a meeting with South Korean National Assembly Speaker Kang Chang-hee, here in Tehran on Monday.
"Iran's economy is rising again, and I hope that the experienced South Korean companies would be more active in this competition (for investing in Iran)," the president underlined.
Pointing to Tehran's grand plans to woo foreign investors in various sectors, President Rouhani called on South Korea's private sector and firms to "get closer to Iran's private sector and expand their activities" in the Islamic Republic.
Rouhani's call for the influx of foreign investment into Iran follows the lifting of some western sanctions on Tehran, after a landmark nuclear deal between the Islamic republic and the major world powers came into effect on January 20.
Iran and Group 5+1 on November 24 signed a six-month deal on Tehran's nuclear program based on which the world powers agreed to suspend some non-essential sanctions and to impose no new nuclear-related bans in return for Tehran's decision to freeze parts of its nuclear activities and to allow more inspection of its nuclear facilities.
Moreover, during the meeting, Kang Chang-hee described Tehran-Seoul ties as "very deep and historical", and added, "Given the Geneva deal, we want the economic relations between Iran and South Korea develop rapidly, in light of the bright future of the two countries' ties."
"We intend to resolve the problems or relations in the economic sphere," the South Korean speaker added.