Turkish Prime Minister Makes Landmark Visit to Iran
TEHRAN (Tasnim) – Turkey's Prime Minister Recep Tayyip Erdogan arrived in the Iranian capital on an official visit to hold talks with senior Iranian authorities on Tehran-Ankara ties, trade relations and regional issues.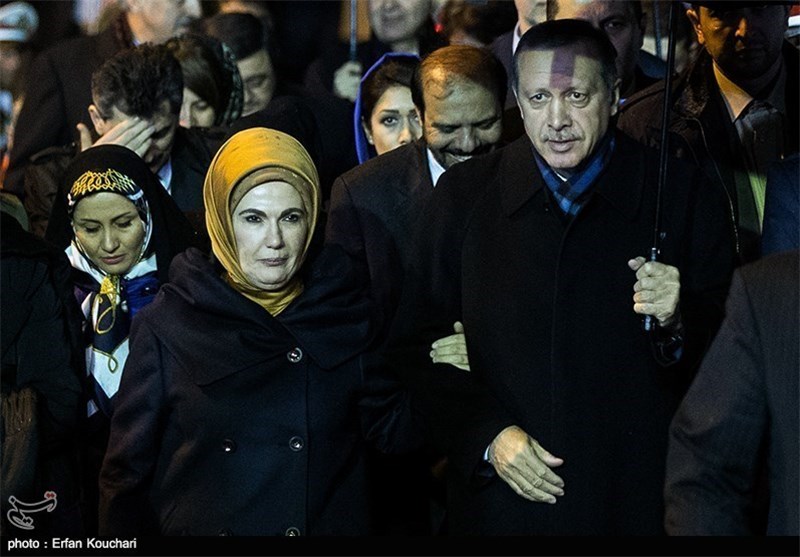 Heading a high-ranking delegation, Erdogan arrived in Tehran late Tuesday at the invitation of Iranian President Hassan Rouhani.
Among the visiting dignitaries accompanying Erdogan are Turkish Foreign Minister Ahmet Davutoglu, Energy Minister Taner Yildiz and Economy Minister Nihat Zeybekci.
Iranian Deputy Foreign Minister for Arab and African Affairs Hossein Amir Abdollahian officially welcomed the Turkish visitors upon their arrival at Mehrabad International Airport last night.
During his two-day stay in Tehran, Erdogan is slated to hold separate meetings with Supreme Leader of the Islamic Revolution Ayatollah Seyed Ali Khamenei, President Rouhani and Foreign Minister Mohammad Javad Zarif.
Earlier this morning, the visiting Turkish premier was welcomed by Iran's First Vice-President Eshaq Jahangiri, while a meeting with President Rouhani is scheduled to take place afterwards.
This is Erdogan's first trip to Tehran after the Iranian president took office in August 2013.
Meanwhile, the Turkish prime minister will reportedly sign an agreement on Tehran-Ankara economic cooperation in his forthcoming meeting with the Iranian president.
Al Mayadin TV network had earlier quoted Erdogan as saying prior to departure for Iran that he seeks to pave the way for an increase in the trade exchange between Tehran and Ankara.
He said the goal is to hike up the volume of trade between the two neighboring Muslim countries to $30 billion by 2015, up from $13.5 billion last year.
"Turkey imports 10 billion cubic meters of natural gas from Iran per annum, and with the easing and lifting of the (anti-Iran) sanctions, the economic and trade cooperation between the two countries will progress as well," Erdogan said.
Observers believe that the Turkish premier's visit to Iran marks a milestone in regional issues.
Commentators argue that Erdogan's trip will have great significance for the region, as Tehran-Ankara cooperation will have a major impact on the Syrian crisis.
It is widely believed that Turkish premier's visit to Iran will not only contribute to expansion of bilateral ties between Tehran and Ankara, but also marks a momentous event with an eye to the regional upheavals.