Iranian Speaker: Enemies Afraid of Elections in Syria
TEHRAN (Tasnim) – The crisis in Syria has to be resolved by the Syrian nation and national groups alone, Iran's parliament speaker underlined, adding that the malignant adversaries are afraid of free election in the Arab country.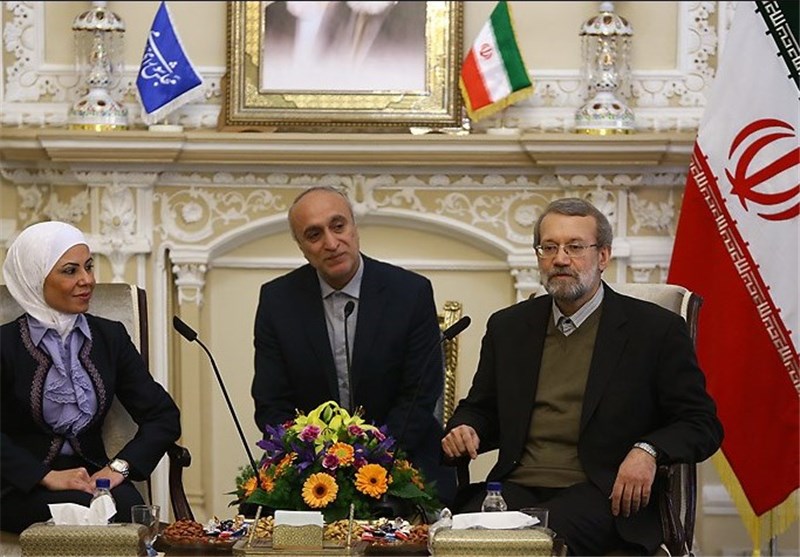 "The enemies of the Syrian nation fear a calm election in the country with the maximum turnout," Ali Larijani said in a meeting with Syria's Minister of Social Affairs Kinda Al-Shammat, here in Tehran on Tuesday.
Larijani also noted that Syria is currently undergoing hardship and sensitive conditions, warning that "the enemies seek to undermine the Syrian government and nation by creating crisis."
The Iranian speaker further praised the Syrian people and officials for their heroic resistance to the full-fledged war launched by the enemies, and made it clear that foreign interference only adds fuel to the flames of war in that country.
"The recent crisis in Syria should be settled by the Syrian people and national groups," Larijani explained.
Expressing Tehran's support for peace and stability in Syria, Larijani said Iran would spare no effort to help provide calm and security in the crisis-ridden country.
Shammat, for her part, expressed gratitude to Iran for the supports it has lent to Syria so far, and insisted that the Syrian nation "will defend its national identity and territorial integrity via resistance."
Syria's war that started in 2011 has killed over 130,000 people so far and forced more than 2 million to flee abroad. Another 4 million have been displaced inside the country.
Iranian officials have on different occasions insisted that a political approach would be the sole solution to the three-year-old crisis in Syria, saying that campaign against terrorism should be top on the agenda of any regional or international conference on Syria.