VP: Iran Seeking $30bln Annual Trade with Turkey
TEHRAN (Tasnim) – Iranian First Vice-President Eshaq Jahangiri said Iran and Turkey have agreed to bring their annual trade ties to $30bln.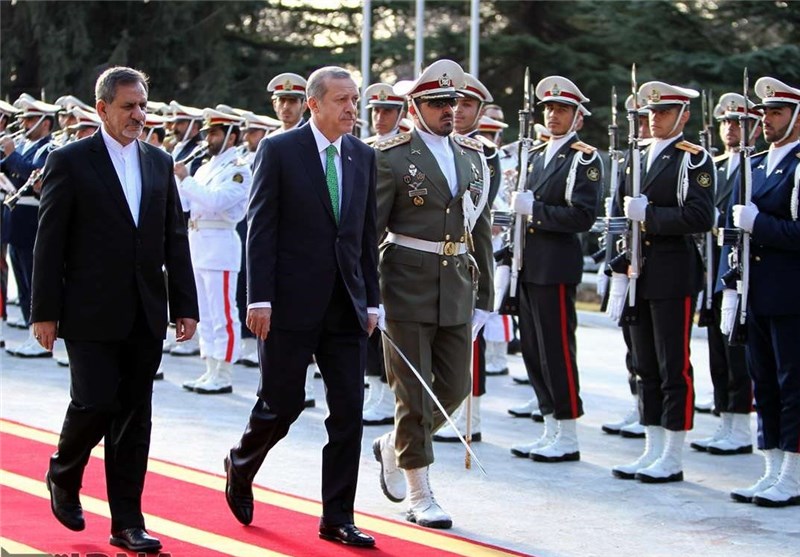 In his joint meeting with visiting Turkish Prime Minister Recep Tayyip Erdogan, Jahangiri expressed satisfaction with the growing relations between the two countries in the course of the past few years, saying that the two neighboring countries' ties are "very good and brotherly."
The Iranian top official said the agreements reached during the meeting were good and satisfactory, including a preferential trade agreement, which will be signed soon.
"We also reached good agreements in negotiations on gas deal, which will be, God willing, finalized as soon as possible," he said.
Jahangiri also said that Prime Minister Erdogan's visit to Iran marks the significant turning point in the two countries' political, economic, and cultural relations, expressing the hope that it would be a beginning for boosting bilateral relations.
The Turkish Prime Minister Recep Tayyip Erdogan, too, said for his part that he expected the year 2014 to mark a rebirth of bilateral relations between Iran and Turkey.
Speaking at the joint press conference with Iran's First Vice-President Eshaq Jahangiri, Erdogan hailed what he called the rebirth of Iran-Turkey ties in 2014, hoping that the current year would be a prelude to a remarkable growth of trade exchange between the two neighbors.
He said that the goal is to hike up the volume of trade between Iran and Turkey to $30 billion by 2015, stressing that both sides have the political determination to reach that objective.
Erdogan who arrived in the Iranian capital late Tuesday on an official visit is scheduled to hold talks with senior Iranian authorities on Tehran-Ankara ties, trade relations and regional issues.
Elsewhere in the press conference, the Turkish premier said that his country is an importer of Iranian crude oil and natural gas, which he described as "strategic products", and also expressed Ankara's willingness to boost fossil fuel imports from Iran.
Erdogan further explained that Turkey's industry is booming at a dramatic pace, and emphasized his country's growing need for Iran's natural gas.
"We hope to take win-win steps according to the common goals," Erdogan said of the prospect of trade ties between Tehran and Ankara, noting that Turkey can export various products to Iran in return.
He also touched on the meetings between the two countries' economy ministers, and called for major strides to finalize a series of agreements on economic relations.
Among the visiting dignitaries accompanying Erdogan there are the Turkish Foreign Minister Ahmet Davutoglu, Energy Minister Taner Yildiz and Economy Minister Nihat Zeybekci.