Annan Commended for Cooperation with Iran during UN Tenure
TEHRAN (Tasnim) – Former United Nations Secretary General Kofi Annan received praise from a senior Iranian official for working in close cooperation with Tehran during his tenure in the global body.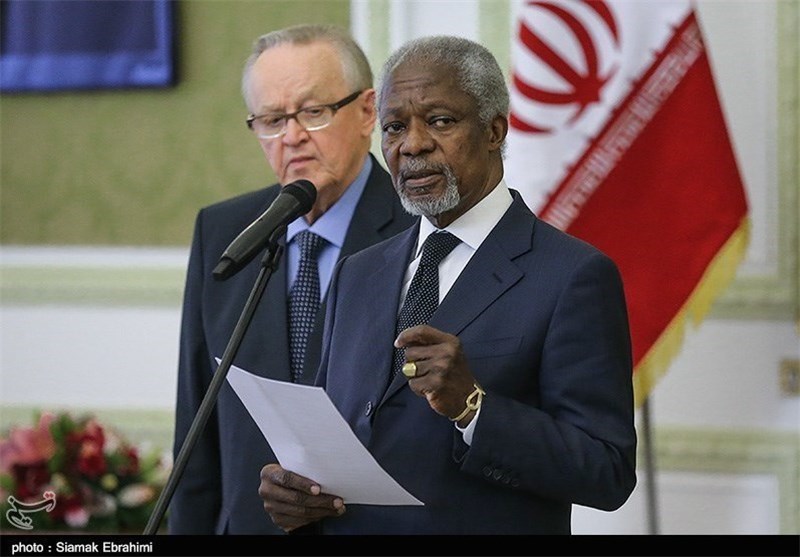 Director of the Strategic Research Center of Iran's Expediency Council Ali Akbar Velayati met Annan in Tehran on Wednesday, and acclaimed the veteran Ghanaian UN chief for his "good cooperation" with the Islamic Republic during his reign at the UN.
Velayati, who is also the international affairs advisor to Supreme Leader of the Islamic Revolution Ayatollah Seyed Ali Khamenei, elaborated on the research activities that the Expediency Council's Strategic Research Center is now engaged in.
Velayati further noted that he derived pleasure from meeting the members of the Elders organization, of which Annan is also a member.
Kofi Annan arrived in Tehran on Sunday along with three other members of The Elders. Former President of Finland and Nobel Peace Laureate Martti Ahtisaari, former President of Mexico Ernesto Zedillo, and retired South African Anglican bishop Desmond Tutu accompany Annan in the three-day visit.
Founded in 2007 by Nelson Mandela, The Elders is an independent group of global leaders who work together for peace and human rights.
Over the past days, Annan has also held meetings with Iranian President Hassan Rouhani, Parliament Speaker Ali Larijani, Foreign Minister Mohammad Javad Zarif and Chairman of the Expediency Council Akbar Hashemi Rafsanjani.
The Former UN chief has announced earlier that the purpose of the delegation's visit was to meet and exchange views with Iranian leaders about the region's problems.