Iran's Nuclear Technology Non-Negotiable: FM
TEHRAN (Tasnim) – Iranian foreign minister and the country's top nuclear negotiator reiterated on Wednesday that Tehran's right to access nuclear technology for peaceful purposes is "non-negotiable."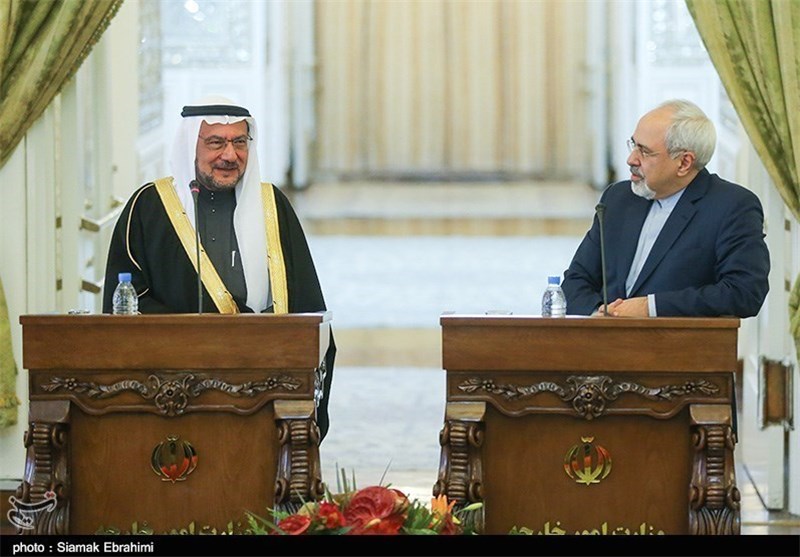 "We have announced explicitly that Iran's nuclear technology is non-negotiable, and the talks of (restriction on) Iran's (nuclear) facilities are also inappropriate," Mohammad Javad Zarif said at a joint press conference with the visiting Secretary General of the Organization of Islamic Cooperation (OIC), Iyad Amin Madani, here in Tehran on Wednesday.
Zarif once again stressed that the Iranian team of nuclear negotiators would never back down an iota from the nation's rights to nuclear technology, and said, "The Islamic Republic of Iran seeks to reach the ways to prove its peaceful purposes for those who intend (to know), through dialogue and reaching mutual understanding."
Asked about the recent comments by US Under Secretary of State for Political Affairs Wendy Sherman, who said the Geneva nuclear deal with Iran does freeze and roll back Tehran's nuclear program, Zarif recommended the American diplomat to avoid making such remarks "even if they are for internal consumption" in the US.
"The US president announced in a meeting recently that the US has wishes, but they would not come true, thus it (the US) seeks dialogue with Iran and achievement of a solution on the basis of reality," the foreign minister noted.
"Ms. Sherman had better review such realities occasionally," Zarif said.
On Tuesday, Sherman said the Geneva deal between Tehran and the six major world powers was "not perfect" but it bought time to try to secure a comprehensive deal.
"We see this as a first step so we don't consider the gaps that exist loopholes because this is not a final agreement," Sherman, also the lead US negotiator in nuclear talks said.
"This is not perfect but this does freeze and roll back their program in significant ways and give us time on the clock to in fact negotiate that comprehensive agreement," she told the Senate Foreign Relations Committee.
On November 24, 2013, Iran and the Group 5+1 (also known as P5+1 or E3+3) signed a six-month deal on Tehran's nuclear program in Geneva after several rounds of tight negotiations.
Based on the interim deal (the Joint Plan of Action), the world powers agreed to suspend some non-essential sanctions and to impose no new nuclear-related bans in return for Tehran's decision to suspend its 20% enrichment for a period of six months.
The breakthrough deal, which has come into effect since January 20, stipulates that over the course of six months, Iran and the six countries will draw up a comprehensive nuclear deal which will lead to a lifting of the whole sanctions on Iran.