Speaker: West Using Deal with Iran to Justify Wrong Policy of Sanctions
TEHRAN (Tasnim) – Iranian Parliament Speaker Ali Larijani rejected West's claims that sanctions on Iran was the reason behind change in Iran's attitude, and noted that the West is using the recent deal to justify its previous wrong policy of sanctions.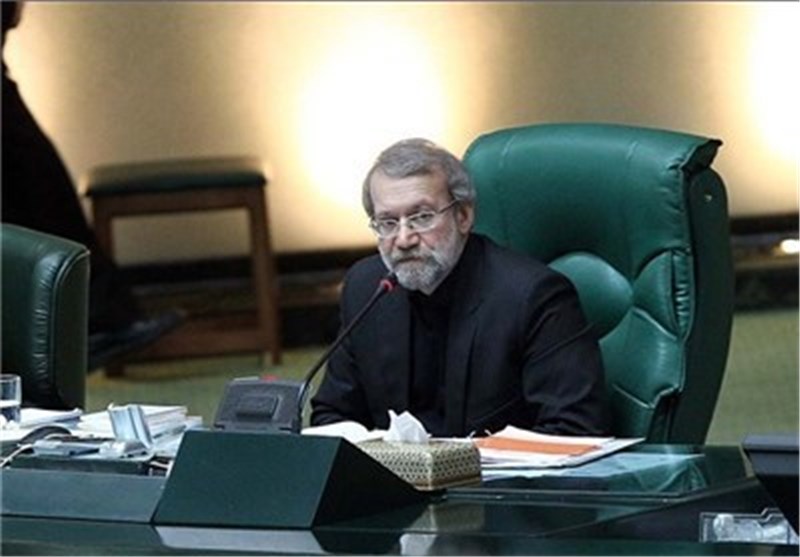 Addressing an open session of the parliament on Sunday, Larijani pointed to the recent comments by US officials about the Geneva deal, and said these remarks made clear that "how badly the West needed a nuclear agreement with Iran to portray it as an achievement in their foreign policy and justify their wrong policy of sanctions against Iran during the past years."
"Now they are trying to say that sanctions were the reason behind change in Iran's path," Larijani said, referring to remarks made by such US politicians such as Wendy Sherman and John Kerry.
Larijani at the same time noted that the western officials have already acknowledged that the sanctions had no impact on Iran's economy.
Last Tuesday, Sherman told the US Senate Foreign Relations Committee that the food distribution plan signified how Iranian people directly benefited from the easing of the sanctions against Iran.
She also referred to the Geneva deal between Iran and the six major world powers, saying "We see this as a first step so we don't consider the gaps that exist loopholes because this is not a final agreement.
"This is not perfect but this does freeze and roll back their program in significant ways and give us time on the clock to in fact negotiate that comprehensive agreement," she added.
On November 24, 2013, Iran and the Group 5+1 (also known as P5+1 or E3+3) signed a six-month deal on Tehran's nuclear program in Geneva after several rounds of tight negotiations.
Based on the interim deal (the Joint Plan of Action), the world powers agreed to suspend some non-essential sanctions and to impose no new nuclear-related bans in return for Tehran's decision to suspend its 20% enrichment for a period of six months.
The breakthrough deal, which has come into effect since January 20, stipulates that over the course of six months, Iran and the six countries will draw up a comprehensive nuclear deal which will lead to a lifting of the whole sanctions on Iran.