Poverty, Joblessness Underpin Bosnia's Bloody Riots
TEHRAN (Tasnim) - The failure of Bosnia's political leaders to address grinding poverty and growing unemployment prompted the first violent protests since the 1992-95 war, with dire warnings of worse to come.
February, 09, 2014 - 15:45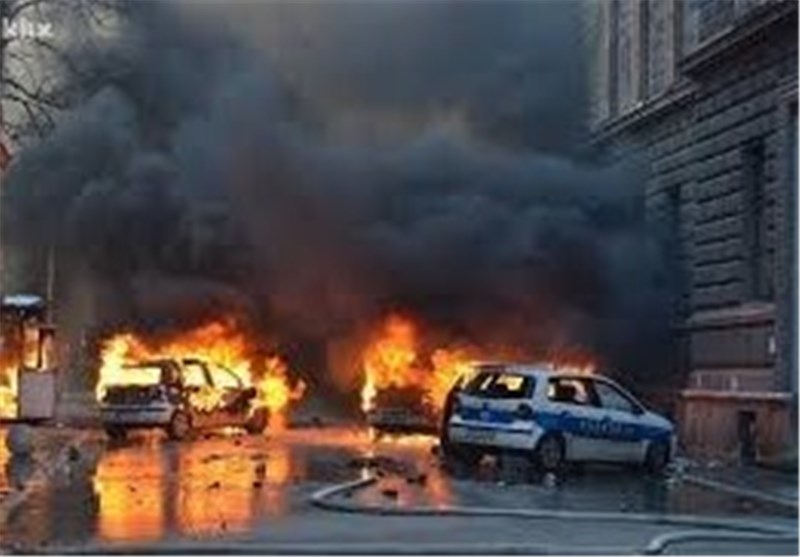 Starting in the industrial hub of Tuzla in the northeast, the protests spread this week across the country, turning into riots that left hundreds injured and government buildings in flames.
While unemployment figures range from the Central Bank's estimate of 27.5 percent to the statistical agency's 44 percent, the Balkan country's unemployment rate is easily among the highest in Europe.
Joblessness of more than 25 percent among Bosnia's young adults is a "stunning and problematic" figure, the World Bank's director for southeastern Europe Ellen Goldstein said last month, AFP reported.
"High unemployment and low labor force participation continue to pose a threat and need to be addressed to ensure a peaceful and prosperous future for Bosnia," Goldstein told a World Bank conference.
One in five Bosnians live below the poverty line, and at least one in five workers are thought to be engaged in the so-called grey economy.
Although macroeconomic data showed the economy made a fragile recovery of 1.0 percent in 2013 after shrinking 0.5 percent in 2012, Bosnia's 3.8 million people have felt scant improvement in their everyday lives.
"More and more people live in misery and poverty. They are hungry," said political analyst Vahid Sehic.
Bosnia's citizens are among the poorest in Europe, with an average monthly salary of 420 euros ($570).
A shadow economy, endemic corruption and a complex post-war political structure that enables squabbling politicians to block reforms are seen as key impediments to improving the economy.
Moreover, hasty privatisations that enabled tycoons to shut down dozens of companies and make quick profits by selling their assets before declaring bankruptcy have left hundreds of people jobless and in despair.
Local media have widely reported that new owners often failed to comply with privatisation contracts and failed to pay workers for up to two years.
The employers reportedly had the silent approval of the authorities eager to help them to avoid bankruptcy and keep unemployment figures down.