DM: Iran Interacting with Int'l Community on Equal Footing
TEHRAN (Tasnim) - Iran's defense minister said the country is firm in pursuing its policies and interacts with the international community on an equal footing, but at the same time noted that the Islamic nature of Iran's establishment should be maintained in all conditions.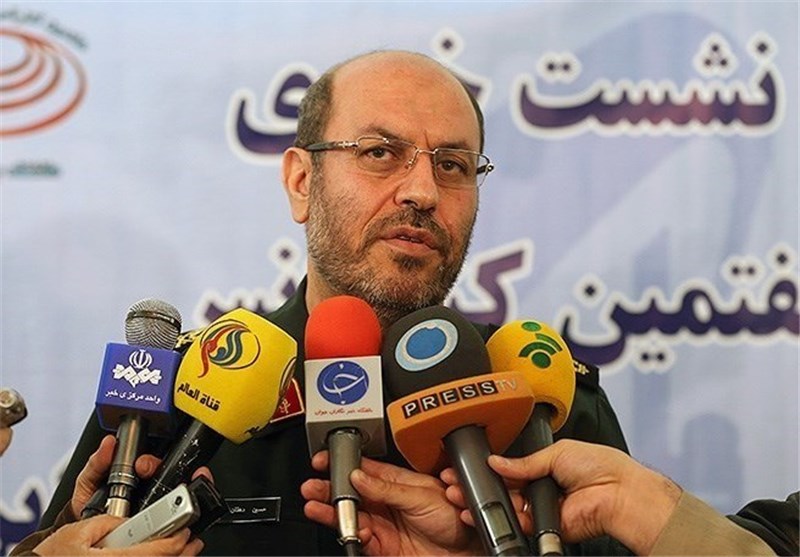 "Our Islamic establishment pursues its policies and purposes while preserving its identity, and it seeks to interact with the other countries on an equal footing and acceptance of equal rights," Brigadier General Hossein Dehqan said in a cultural ceremony in the central city of Qom on Sunday.
The minister also made it clear that the Iranian administration has never been after "appeasing the hegemonic system," arguing that essentially, the Islamic Revolution cannot compromise with or appease the hegemonic system.
In relevant remarks on Saturday, Supreme Leader of the Islamic Revolution Ayatollah Seyed Ali Khamenei placed a great emphasis on the need for safeguarding the fundamental tenets of the Islamic Revolution, and stressed the necessity for explicit and outright support for those principles.
"Tactics and methods of the job can be changed, but the fundamentals and principles should remain firmly in place, and the very same issue is the secret to the country's strength and progress," Ayatollah Khamenei said, addressing a large gathering of the Islamic Republic of Iran Air Force (IRIAF) commanders and personnel.
The Leader referred to "explicitness in proclaiming the basics and stances" as the secret to the durability of the Islamic Revolution, and added, "One should by no means lose such explicitness and transparency in dealing with the Iranian nation's friends and foes, and the Islamic Republic of Iran's stances should be expressed clearly and explicitly."
"The Iranian nation's explicit and firm insistence on the (Islamic) revolution's principles and fundamentals has made the world nations and even the evenhanded elites to see the Iranian nation as a brave, sincere, smart, resisting and patient one despite the 'Iranophobia' policy of the propaganda systems affiliated with the interfering powers in recent years," Ayatollah Khamenei explained.