Iranians Won't Forget What US Did to Them: President Rouhani
TEHRAN (Tasnim) – Iranian President Hassan Rouhani on Monday said the Iranian people will not forget what the US and some European countries did to them but attach more importance to how these countries choose to act today and in future.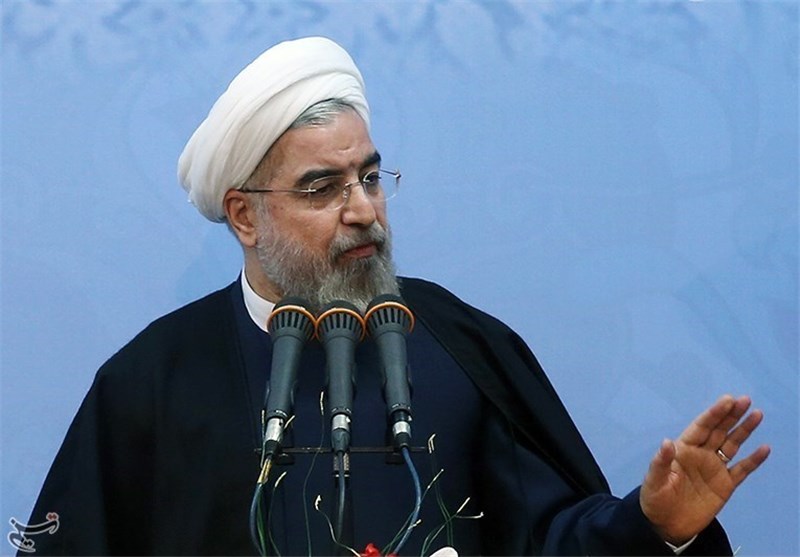 Rouhani made the remark while addressing the ambassadors and representatives of foreign countries in Tehran, adding that these countries will earn respect if they respect the Iranian nation.
"We are ready to have better relations based on mutual respect and shared interests with all countries from (those in) Asia to (those in) Africa, Europe and America."
The president underlined that the Iranian government is determined to have constructive interactions with all countries.
He also reiterated that global peace and security is of particular importance to Iran and that "elimination of weapons of mass destruction, especially nuclear weapons, in line with (ensuring) world security is among the priorities of the Iranian government."
Rouhani stated that a world free from nuclear weapons and other WMDs and a Middle East free from WMDs is among the Iranian nation's aspirations, expectations and demands.
"In order to have a more secure world, we must confront violence, extremism, and, particularly, terrorism," he also said.
Iran's chief executive warned those countries that have created and aided terrorist groups that they will see the ominous consequences of their support for these groups, stressing that no country can rely on terrorists to secure its interests.
Turning to Iran's peaceful nuclear program, he reiterated Tehran's position that all nations should be able to benefit from the advantages of science and technology, including peaceful nuclear technology.
He referred to Iran's negotiations with the group G 5+1 (the five permanent UN Security Council members plus Germany) and said Iran earnestly maintained the talks with the group with the aim of building trust.
Tehran and the G5+1 (also known as P5+1 or E3+3) on November 24 reached a six-month deal, know as Geneva agreement, on Iran's nuclear program.
The breakthrough deal, which has come into effect since January 20, stipulates that over the course of six months, Iran and the six countries will draw up a comprehensive nuclear deal which will lead to a lifting of the whole sanctions on Iran.
The two sides are due to begin a new round of talks later this month, aimed at working out a final agreement on Iran's peaceful nuclear program.
Elsewhere in his remarks, Rouhani asked the foreign envoys in Tehran to convey to their countries the message of Iranian nation's goodwill and resolve for closer ties with all countries.