President Rouhani Blasts Enemies' Threatening Tone against Iran
TEHRAN (Tasnim) - The Iranian nation never tolerates any threatening language, President Hassan Rouhani stressed on Tuesday, and advised those who make threats against the Islamic Republic to take a fresh look at the realities on the ground.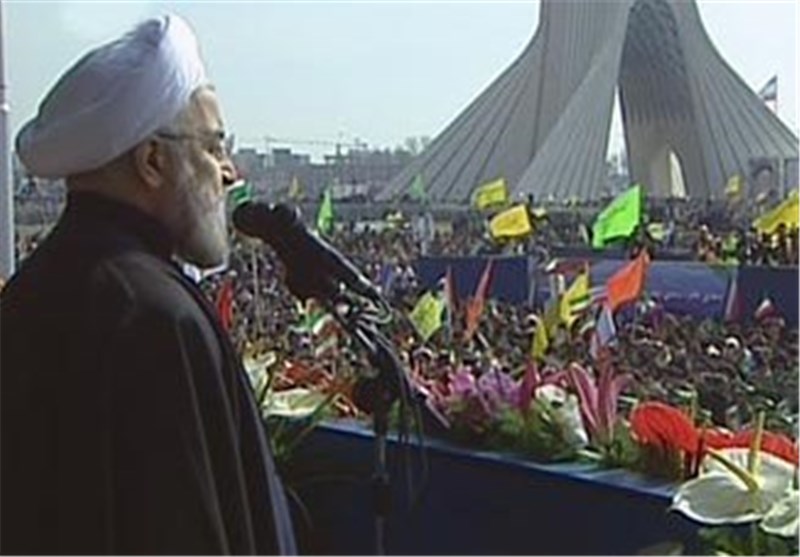 "I express frankly that if some sides have the delusion that a threat against the Iranian nation exists on their table, they will have to change their glasses," President Rouhani stated, addressing a huge gathering of Iranian people at Tehran's Azadi (Liberty) Square on Tuesday, marking the 35th anniversary of the victory of the Islamic Revolution.
The president dismissed as "worthless and childish" any threatening language against the Iranian nation, and contended that Iranians have over the past 35 years "stood against, countered and triumphed over all kinds of enemy's threats."
"There is no military threat against our nation on any table in the world," Rouhani underlined.
His comments came after senior American officials, including US Secretary of State John Kerry, have in recent weeks time and again repeated the rhetoric of military option still being on the table.
Iran's high-ranking officials, however, have slammed the tone and described threatening the Iranian nation with the military option as a grave mistake.
Elsewhere in his speech, President Rouhani pointed to the nuclear negotiations between Iran and the six major world powers, saying the objective in the talks was to announce that the unilateral sanctions against the Iranian nation have been cruel, illegal and false, and that the world could not retain the embargos anymore.
"If the sanctions had been able to block our nation from keeping to its legitimate path, they could have done so over these 35 years (following the 1979 Islamic Revolution)," he added.
The Iranian chief executive further described the nuclear negotiations as a "historical test for Europe and America," and promised that the Group 5+1 members (the five permanent UN Security Council members plus Germany) would definitely receive "positive and proper" reply from the Iranian nation, provided that they continue the nuclear talks "within the framework of law, the Iranian nation's rights, mutual interests and respect, interaction and cooperation."
He also reaffirmed Tehran's commitment to attend "fair and constructive" negotiations within the fretwork of the international regulation, expressing the hope that the other side would show such determination as well.
Tehran and the G5+1 (also known as P5+1 or E3+3) on November 24 reached a six-month deal, know as Geneva agreement, on Iran's nuclear program.
The breakthrough deal, which has come into effect since January 20, stipulates that over the course of six months, Iran and the six countries will draw up a comprehensive nuclear deal which will lead to a lifting of the whole sanctions on Iran.
The two sides are due to begin a new round of talks later this month, aimed at working out a final agreement on Iran's peaceful nuclear program.