Cleric Reiterates Iranian Nation's Continued Support for N. Rights
TEHRAN (Tasnim) - Tehran's provisional Friday prayers leader once again expressed the Iranian nation's firm determination to defend its nuclear rights, and stressed that the US-imposed sanctions against the country could never make the Iranians stop short of pushing for progress.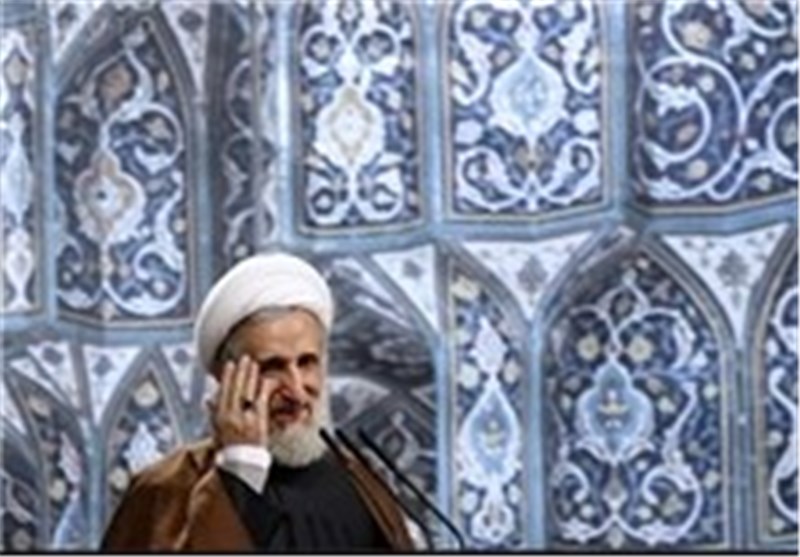 Addressing a large congregation of Iranian people here in Tehran on Friday, Hojjatoleslam Kazem Seddiqi slammed as delusion the westerners' claim that sanctions have brought Iran to the negotiating table.
"The world and the (nuclear) negotiators (engaged in talks with Iran) should know that the Iranian nation is courageous and resisting in regard with the rights that it has obtained at a heavy cost in the issues such as the nuclear (technology)," the cleric underlined.
His remarks came after US President Barack Obama said in a press conference on Tuesday that Washington's unilateral sanctions against Tehran "are already squeezing Iran and brought them to the table."
Iran and the Group 5+1 (the five permanent UN Security Council members plus Germany) have reached a six-month deal, known as the Geneva agreement, on Iran's nuclear program, while the two sides are set to resume talks later this month, aimed at working out a final, comprehensive agreement.
Elsewhere in his remarks, Seddiqi made it clear that the possible economic problems or sanction-related burdens could never hinder the Iranian nation's progress and its move to retain its dignity.
In relevant remarks earlier this month, Iranian Defense Minister Brigadier General Hossein Dehqan underlined that the Iranian nation will never relinquish its legitimate rights to benefit from nuclear know-how and peaceful nuclear energy.
Iran is a signatory to the nuclear Non-Proliferation Treaty (NPT) and has repeatedly declared opposition to nuclear weapons.
The US and some other countries, however, have repeatedly accused Iran of pursuing non-civilian objectives in its nuclear energy program. Iran has categorically rejected the allegations, arguing that it only seeks nuclear technology for peaceful purposes.
To set the stage for the settlement of the dispute over the Islamic Republic's nuclear energy program, Tehran and the six major world powers reached a deal on November 24, 2013 after days of intense negotiations in the Swiss city of Geneva.