Iran Ready to Provide Turkmenistan with Technical Expertise: President
TEHRAN (Tasnim) - Iranian President Hassan Rouhani in a meeting with the Turkmen foreign minister expressed the Islamic Republic's preparedness to boost exports to its northeastern neighbor, saying Tehran can provide Ashgabat with the engineering and technical expertise.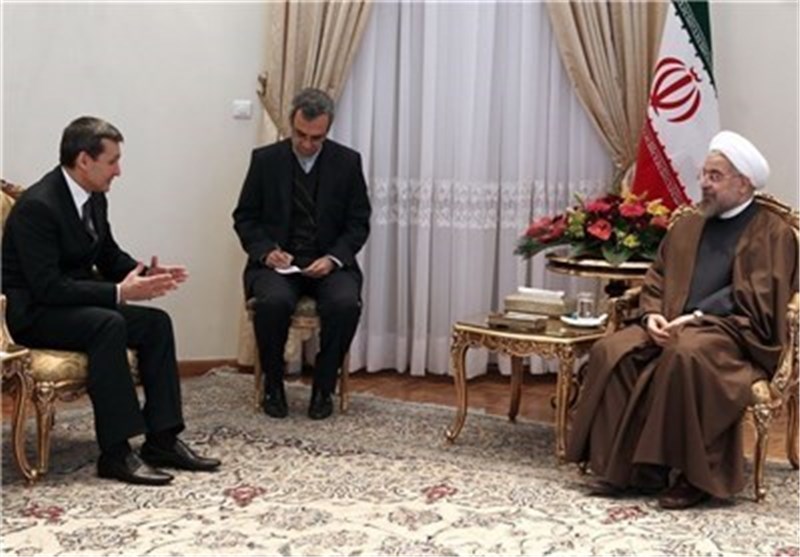 "Iran is ready to export goods as well as technical and engineering services to the regional countries, particularly Turkmenistan," Rouhani said in a meeting with Turkmen Foreign Minister Rasit Meredov, here in Tehran on Saturday.
The president reiterated that "expansion of ties with the neighboring countries" sets a priority for Iran's foreign policy, noting that there are abundant opportunities for the enhancement of cultural, trade and economic relations between Iran and Turkmenistan.
President Rouhani also referred to the Caspian Sea as the "sea of cooperation, peace, security and calm," and urged all the Caspian littoral states to push for more cooperation on "environment protection, the ecosystem, the sea, shipping, establishment of security and the formulation of a legal regime."
The visiting Turkmen minister, for his part, underscores his country's enthusiasm to broaden ties with Iran, and pledged that Ashgabat will seriously cooperate with Tehran on the issues pertaining to the Caspian Sea.
"The Islamic Republic of Iran is a friendly and close neighbor of Turkmenistan, and Ashgabat is trying to further deepen its vast ties with Tehran," Meredov added.
Earlier in January, Iran and Turkmenistan, in a memorandum of understanding (MoU) signed by the two countries' foreign ministers, agreed to boost mutual cooperation in different economic fields.
Iranian Foreign Minister Mohammad Javad Zarif and his Turkmen counterpart signed the 48-article MoU at the 13th meeting of Iran-Turkmenistan joint economic cooperation commission held in Ashgabat.
The MoU has asked for the expansion and further improvement of mutual cooperation in different fields, including transfer of electricity, exploration of oil and gas resources, activation of trade ties and closer ties between the two sides' chambers of commerce.