Rice Farmers Besiege Thai PM's Office as Protesters Surround Gov't HQ
TEHRAN (Tasnim) - Hundreds of unpaid Thai rice farmers swarmed around the temporary office of Prime Minister Yingluck Shinawatra on Monday, threatening to storm the building if the beleaguered premier did not come out and speak to them.
February, 17, 2014 - 14:27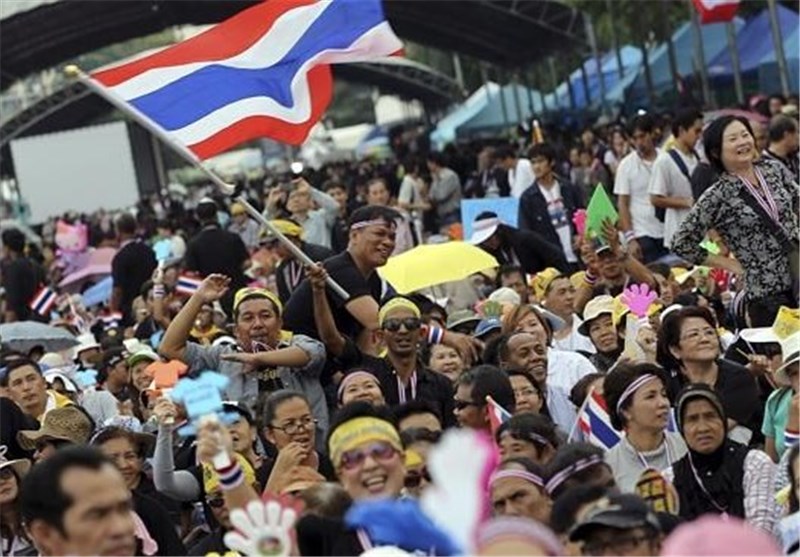 The escalation of the protest by farmers, who have not been paid for crops sold to the government under a state rice-buying scheme that helped sweep Yingluck's Puea Thai Party to power, came as thousands of demonstrators seeking to unseat the prime minister surrounded the government's headquarters.
Live television pictures showed farmers climbing over barbed wire fences and barriers at the Defence Ministry compound in north Bangkok where Yingluck has set up temporary offices. They pushed back a line of riot police, who retreated from confrontation, but did not enter the building.
"The prime minister is well-off but we are not. How are we going to feed our children? I want her to think about us," said one protesting farmer.
"Farmers are tough people, they wouldn't normally speak out but they are at the end of their tether," she added.
The farmers have mostly kept apart from a broader anti-government protest movement, about 10,000 of whose members surrounded the prime minister's main Government House offices in central Bangkok early on Monday, Reuters reported.
Those protesters view Yingluck as a proxy for her elder brother, Thaksin Shinawatra, a self-exiled former prime minister who clashed with the establishment before he was overthrown by the army in 2006.