Talks between Ukrainian Gov't, Opposition Fail as 25 Killed in Kiev Unrest
TEHRAN (Tasnim) - At least 25 people have been killed in Kiev as the Ukrainian capital plunges back into chaos.
February, 19, 2014 - 12:28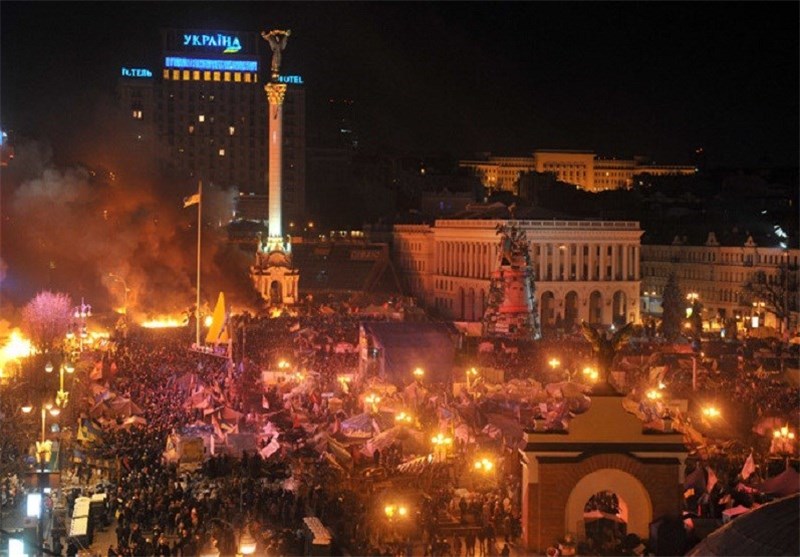 Rioters have attacked police, seized buildings, torched vehicles, and burned tires. Nine policemen are among the dead, all of whom died from gunshot wounds.
Making public appeals to arm the opposition has crossed the line, declared Ukrainian President Viktor Yanukovich in address to the nation published on his website.
"This is a glaring violation of the law. The offenders must appear before a tribunal which will determine the measure of punishment for them. This is not my caprice, it is my duty as a guarantor of the Constitution - to ensure peace in the country, the peace of the citizens and justice for everyone," the statement says.
The leaders of the opposition should immediately dissociate from the radicals provoking bloodshed and clashes with law enforcement, demanded Yanukovich, RT reported.
"If they do not wish to abide, they ought to declare that they support the radicals. In that case they would be treated respectively," the president declared.
Viktor Yanukovich said that opposition leaders demanded full power without elections, which is unconstitutional.
"I told the [opposition leaders] many times – elections are close. If people trust you, you will be in power. If they do not, you won't. But both must occur legally, according to the Constitution of Ukraine," Yanukovich stated.
Ukraine's President Viktor Yanukovich and opposition leaders were unable to reach an agreement during the emergency meeting, RIA Novosti quoted UDAR party leader Vitaly Klitschko as saying. "Yanukovich said that there is only one option...to clear Maidan and that everyone has to go home," Klitschko told independent Hromadske TV after meeting with the Ukrainian president. It is not yet clear whether talks with the other two opposition leaders continued.
At least 11 protesters died in the riots, according to local officials. "As of 11 pm local time 221 people have sought medical attention, 114 of them were hospitalized. There were 11 fatalities," Ukraine's Health Ministry said in a statement.
The Ukrainian Interior Ministry reported that seven police officers died of gunshot wounds during the clashes. Two additional officers were later killed and another was critically injured as a traffic police unit was attacked in Kiev. The police officers died while in pursuit of the offenders.
The ministry added that 135 law enforcers have been taken to nearby hospitals, 35 of whom are in critical condition.
Kiev's hospitals are unable to handle the large amount of injured people coming in from the streets, TSN reported. There is a wait for operation rooms and people are being carried in with various types of injuries. There have been reports of two amputations, punched out eyes, and injured extremities.
Thousands continue to occupy Kiev's Independence Square as state security forces move in to disperse the crowds.
Fighting in the Independence Square (Maidan) area has intensified, according to Twitter reports. Riot police are reportedly on the offensive, throwing stun grenades and spraying tear gas. Rioters are responding with Molotov cocktails. Gunshots can be heard.