Thai Protesters Rally against PM after Deadly Bangkok Clashes
TEHRAN (Tasnim) - Protesters seeking to oust Thai Prime Minister Yingluck Shinawatra rallied at her temporary office on Wednesday, but the premier stayed away from the potential flashpoint a day after five people were killed in gunbattles in Bangkok.
February, 19, 2014 - 13:20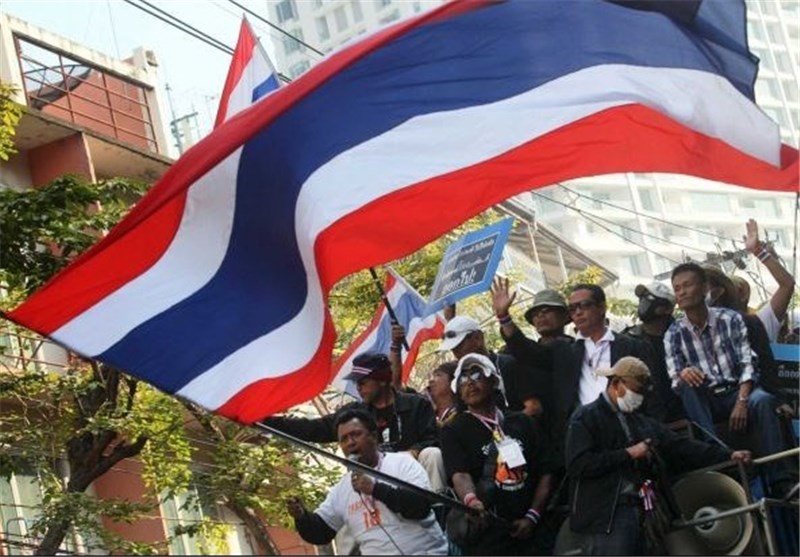 A senior security official said police would not attempt for now to retake more protest sites, after Tuesday's "Peace for Bangkok Mission" saw the deadliest clashes since the anti-government demonstrations began in November.
Problems continue to mount for Yingluck, after an anti-corruption agency filed charges against her over a soured rice subsidy scheme that has stoked middle class anger and left hundreds of thousands of farmers, her natural backers, unpaid.
Yingluck, seen by opponents as a proxy for her brother, ousted former premier Thaksin Shinawatra, has been working from a Defence Ministry compound in north Bangkok since the protests forced her to vacate her Government House office, Reuters reported.
"We came here because we do not want Yingluck to use the Defence Ministry complex any more," Chumpol Jumsai, a protest organizer, told around 3,000 supporters. "We're asking soldiers to stop letting Yingluck use this facility."
The protests are the latest installment of an eight-year political battle broadly pitting the Bangkok middle class and royalist establishment against the mostly rural supporters of Yingluck and Thaksin.
Bluesky TV, the protest movement's own channel, showed footage of troops guarding the building behind barbed wire. In contrast to Tuesday's face-off with police, the atmosphere was not confrontational and protest leader Suthep Thaugsuban was allowed inside to speak to senior soldiers.
A spokesman for the military, which has said it would intervene if police were unable to maintain security in the capital, earlier appealed for both sides to avoid confrontation.
"Our strategy has not changed and is still to provide support to police," Colonel Werachon Sukondhapatipak told Reuters. "We have no intention of deploying extra troops. If the government needs extra help with security, it has to ask us and so far it has not asked for reinforcements."
The military has remained aloof from the latest crisis, but has a long history of intervening in politics, generally in support of the Bangkok establishment that includes the top brass, royal advisers and old-money families.
Violence flared on Tuesday as police made their most determined effort since the start of the protests to reclaim sites around government buildings occupied for weeks.