Zarif Describes Vienna Talks as "Constructive, Intensive"
TEHRAN (Tasnim) – Iran's Foreign Minister Mohammad Javad Zarif on Thursday described the three-day talks between Iran and the sextet of world powers as constructive.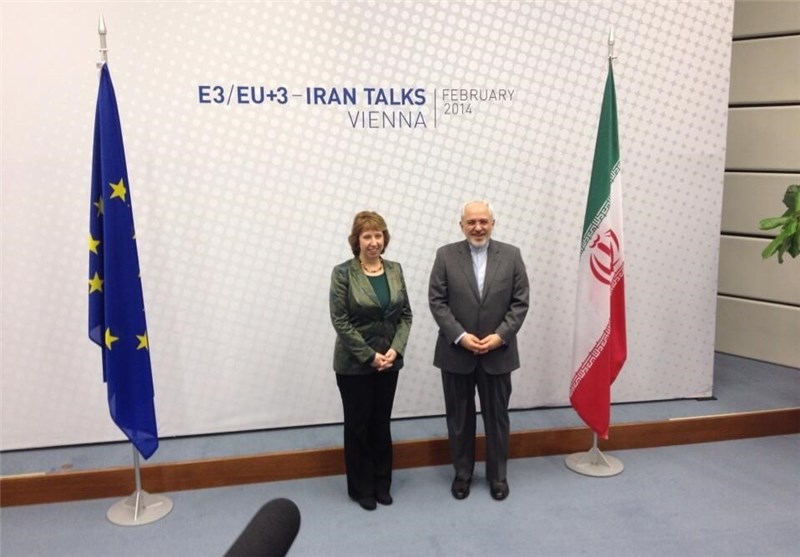 "We had three constructive and very intensive workdays," Zarif said in a joint press conference with European Union Foreign Policy Chief Catherine Ashton in Vienna.
The foreign minister at the same time said difficult work is still ahead while both sides believe that there has been a good start for "this difficult work".
He said in addition to discussions at the political level, technical talks were made during the meetings.
"We agreed on a time frame to continue negotiations in the next 4 months. We also agreed on a framework for the negotiations."
Representatives from Iran and the six world powers (known as P5+1 or E3+3) ended their last day of talks in Vienna, Austria, on Thursday.
During Vienna talks, the two negotiating teams discussed the priorities for the future negotiations and working out a framework for an ultimate and comprehensive agreement on Iran's peaceful nuclear program.
The next round of negotiations between Iran and the G5+1 (also known as P5+1 or E3+3) will be held from March 17 to 20 in Vienna.
It was the first round of high-level negotiations since a November interim deal, clinched between Iran and the G5+1.
On November 24, 2013, the two sides signed an interim six-month deal on Tehran's nuclear program in the Swiss city of Geneva.
The breakthrough deal (the Joint Plan of Action), which has come into effect since January 20, stipulates that over the course of six months, Iran and the six countries will draw up a comprehensive nuclear deal which will lead to a lifting of the whole sanctions on Iran.