Initial Ukraine Deal Reached after All-Night Talks
TEHRAN (Tasnim) - Following a night of intense negotiations brokered by three European Union ministers, Ukrainian President Viktor Yanukovich said a deal with opposition leaders had been reached and would be signed later Friday.
February, 21, 2014 - 12:56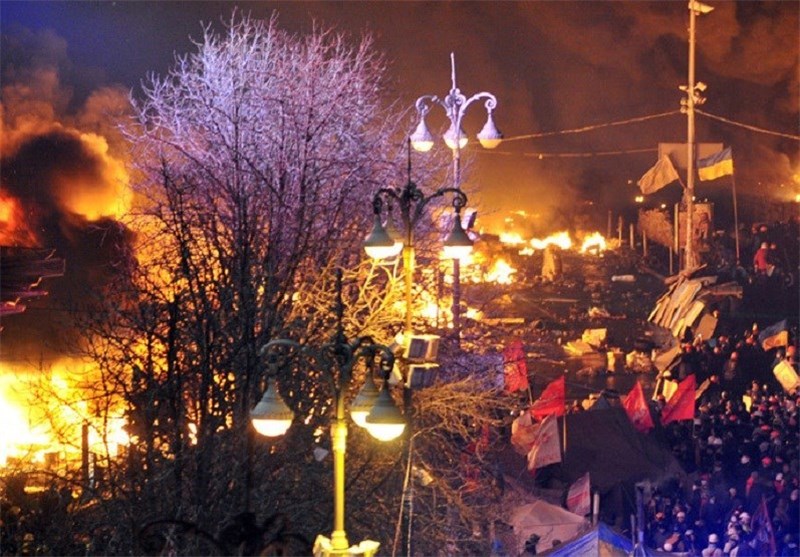 A statement released by the Ukrainian presidential press service early Friday said an agreement had been made, but it did not provide any details of the deal.
The negotiations brokered by ministers from Poland, Germany and France followed the deadliest day of clashes between opposition supporters and security officials, which killed 75 people in two days, according to Ukrainian Health Ministry officials.
The talks proved to be "very difficult" according to an EU diplomatic source who spoke to Reuters on condition of anonymity.
Meanwhile, a tense calm reigned in the capital of Kiev early Friday as several thousand protesters milled around Independence Square, known as the Maidan, which earlier this week was rocked by street battles between protesters and police that have left at least 101 dead.
No visible police forces remained on the square, and volunteers walked freely to the protest camps to donate food and other packages.
Yanukovich and the opposition protesters who are demanding his resignation are locked in an epic battle over the identity of Ukraine, a nation of 46 million that has divided loyalties between Russia and the West.
Parts of the country – mostly in its western cities – are in open revolt against Yanukovich's central government, while many in eastern Ukraine back the president and favour strong ties with Russia, their former Soviet ruler.
"Yanukovich and Russian President Vladimir Putin are sticking to the line that this protest movement is the work of far-right extremists," FRANCE 24's Gulliver Cragg reported from Kiev.
"But one of the most striking things about this movement is just what a wide cross-section of Ukrainian society is involved," he said. "The majority are people who are afraid that democracy, and possibly even Ukraine's independence – because of Yanukovich's extreme dependence on Russia – is under threat."
In Brussels, the 28-nation European Union decided in an emergency meeting Thursday to impose sanctions against those behind the violence in Ukraine, including a travel ban and an asset freeze against some officials.
German Chancellor Angela Merkel spoke with Putin and US President Barack Obama about the crisis in Ukraine on Thursday evening.
The Kremlin issued a statement, with Putin blaming radical protesters and voicing "extreme concern about the escalation of armed confrontation in Ukraine".