Ukraine Parliament Votes to Dismiss President
TEHRAN (Tasnim) - The Ukrainian Parliament has declared President Viktor Yanukovich unable to carry out his duties, setting an early election for May 25.
February, 22, 2014 - 19:29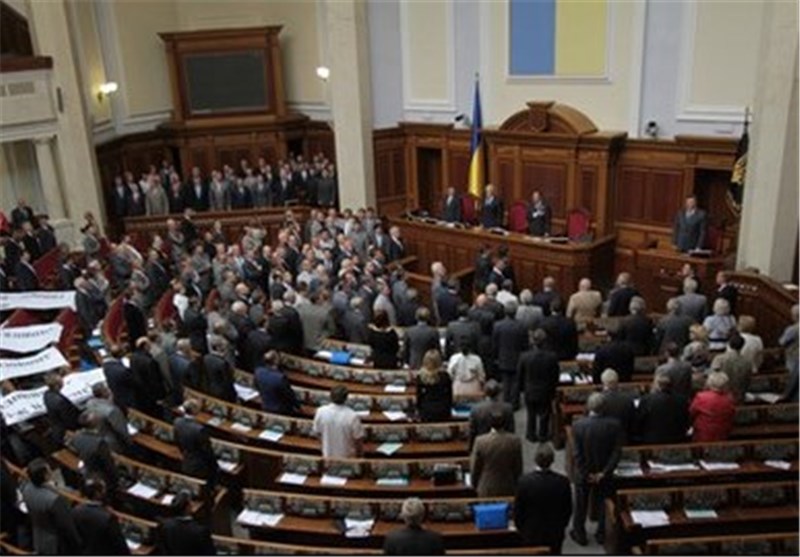 The resolution was passed by deputies in the assembly who applauded and sang the national anthem.
Speaker Oleksander Turchynov said Mr Yanukovych - who earlier refused to quit - had "abandoned his constitutional responsibilities, which threatens the functioning of the state, the territorial integrity and sovereignty of Ukraine".
It comes as jailed opposition leader Yulia Tymoshenko - the president's arch-rival - is set for release, having been arrested in 2011 on charges of abuse of power.
Anti-government protesters earlier claimed victory in Kiev after taking control of government buildings, Sky News reported.
Before Parliament voted, President Yanukovych reportedly told a local TV station in Kharkiv he would not to resign or leave Ukraine, comparing the situation in the country to the Nazis coming to power in 1930s Germany.
He called the opposition "gangsters" and said he would remain in southeast Ukraine while they were "terrorising" the country. He also refused to sign any of the new laws and labelled the unrest a "coup".
Mr Yanukovych is reported to have left Kiev, with his residence in the capital unguarded and journalists able to enter the building freely, according to the Interfax news agency.
A close ally of Mr Yanukovych has said the president had no intention of leaving Ukraine. Hanna Herman said he was visiting Kharkiv, a city in the east of Ukraine which is the heart of his support.
Initial reports claimed Ms Tymoshenko had already been freed, but these were later clarified by aide Natasha Lysova, who said the parliamentary decision meant she must be freed immediately.