More Reunions for Koreas ahead of Drills
TEHRAN (Tasnim) - A second group of 350 South Koreans crossed into North Korea to take part in a reunion for divided families, a day before South-US military drills that threaten to undo a recent upswing in cross-border ties.
February, 23, 2014 - 13:27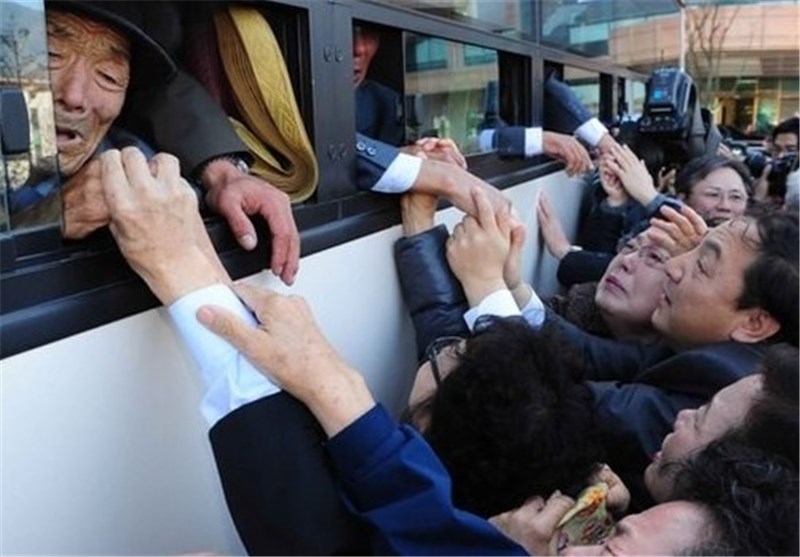 The latest event - held in the North's Mount Kumgang resort from last Thursday to Tuesday - is the first reunion in more than three years for families separated by the 1950-53 Korean War.
In the second and last round of the reunion, the southerners are set to meet their 88 North Korean relatives from Sunday to Tuesday.
The first batch of about 80 southerners returned home Saturday after a highly-emotive and tearful reunion with their 174 northern relatives, held from Thursday, AFP reported.
Ryoo Jung-Hee, 69, called it a "miracle" that her 81-year-old brother -- dragged to the army aged 17 and long believed dead -- was in the North and looking for her.
"We even had his death certificate issued long time ago... it was like a miracle when we heard he was alive and was looking for us," Ryoo said before departing Seoul on Sunday.
"I still can't believe this is real," she said.
The much-anticipated event is held amid growing tension over Seoul's joint military drill which has stirred intense criticism of the US by Pyongyang. The South is set Monday to begin its annual Key Resolve and Foal Eagle exercises with the US, which both allies describe as defensive in nature.
But the North has habitually condemned them as a prelude to war and threatened earlier this month to cancel the reunion if Seoul pushes ahead with the planned exercises.
The North however later agreed to go ahead with the reunion, seen as a concession aimed at improving ties.
Relations were icy last year when the North issued a series of threats targeting Seoul and cancelled the planned family reunion in September, citing Seoul's "hostilities".
Millions of people were separated from their spouses, parents, children and siblings during the chaos and devastation of the conflict six decades ago.