Iranian Nation Distrustful of West: FM
TEHRAN (Tasnim) – Iran's Foreign Minister Mohammad Javad Zarif once again said the Iranian nation distrusts the west.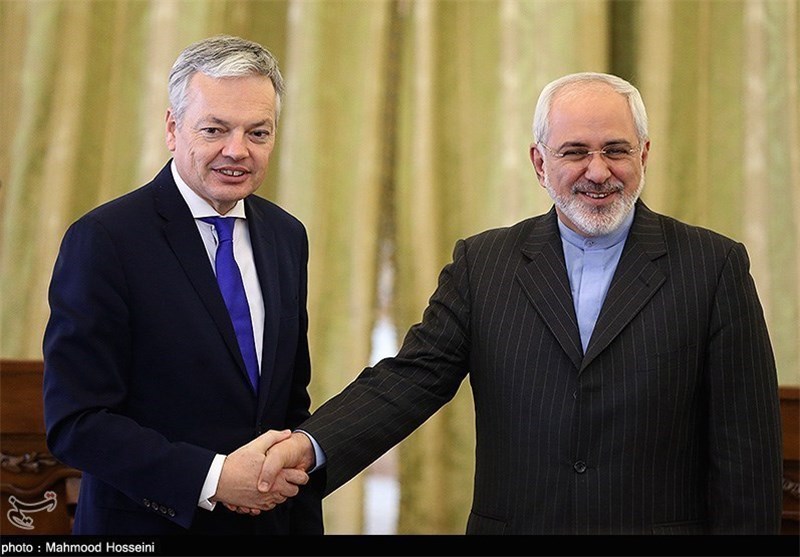 "The Iranian nation has misgivings about the West," Zarif said Sunday while speaking in a joint press with his Belgian counterpart Didier Reynders in Tehran.
He, however, said that the Joint Plan of Action signed between Iran and the six world powers has provided an opportunity for building trust.
The Joint Plan of Action is a breakthrough deal on Tehran's nuclear program signed by Iran and the Group 5+1 (the US, Russia, France, Britain and China plus Germany) on November 24, 2013.
Zarif said Iran respects and fulfils its commitments, as confirmed by the International Atomic Energy Agency (IAEA), adding that a (final) agreement can be reached by the two sides within the specified time-frame.
Iran and the G5+1 wrapped up the latest round of negotiations in the Austria capital of Vienna on Thursday.
The next round of talks between the two sides, aimed at reaching a comprehensive deal on Tehran's peaceful nuclear program, will be held from March 17 to 20 in Vienna.
Iran's top diplomat further pointed to his talks with Reynders on Sunday and said the two sides had good discussions on various issues, including bilateral ties, nuclear negotiations between Iran and sextet of world powers, and regional issues such as the situation in Syria.
During the press conference, Belgium's foreign minister referred to the upcoming visit to Tehran by European Union Foreign Policy Chief Catherine Ashton, and said, "Our aim is to restore relations based on trust and reach a final deal on Iran's nuclear issue through dialogue."
Reynders said he has invited Zarif to visit Brussels, and added that if a final agreement is achieved on Iran's nuclear issue, there will be ample opportunities for expansion of ties between Iran and the EU states, including Belgium.
He also praised Iran for hosting Afghan refugees and fighting drug-trafficking.
Turning to the Syrian conflict, Reynders underlined that there is no military solution to Syria's crisis and that it can only be resolved politically.