Iranian FM Favors Iran-ASEAN Cooperation
TEHRAN (Tasnim) – Iranian Foreign Minister Mohammad Javad Zarif voiced Tehran's readiness for cooperation with the Association of Southeast Asian Nations (ASEAN).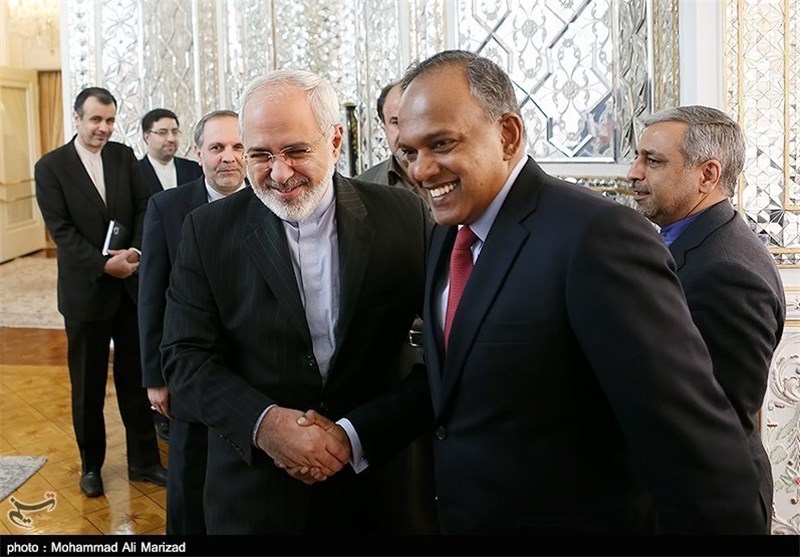 In a meeting with the visiting Foreign Minister of Singapore here in Tehran on Monday, Zarif pointed to the position of Singapore in the ASEAN and said Iran is ready for bilateral cooperation with the association.
He also described collaborations between the ASEAN and the Economic Cooperation Organization (ECO) as significant.
Iran, along with Turkey and Pakistan, is one of the three founding members of the Economic Cooperation Organization (ECO).
Zarif further pointed to the Iranian administration's policy of constructive interaction and hoped that the Singaporean minister's visit to Tehran would lead to the development of ties between the two countries.
He said Iran and Singapore can expand relations in various political, economic, and cultural areas as well as in tourism and education.
Singapore's Foreign Affairs K Shanmugam, for his part, hailed the good ties between his country and Iran in political and international areas.
Noting that Tehran and Singapore have great economic potentials that should be utilized, he voiced the willingness of Singaporean firms to cooperate with Iran.
Shanmugam referred to Iran's rich history and culture and underlined his country's interest in developing cultural and tourism cooperation with Iran.
He further said member states of the ASEAN are keen on cooperation with the Islamic Republic and that Singapore is ready to act as a bridge between Tehran and the ASEAN.
Elsewhere, Shanmugam hoped that Iran and the Group 5+1 (the US, Russia, France, Britain and China plus Germany) will continue their negotiations to reach a comprehensive agreement.
Tehran and the six major world powers (also known as P5+1 or E3+3) on November 24, 2013, signed a six-month deal on Tehran's nuclear program in Geneva after several rounds of tight negotiations.
Based on the interim deal (the Joint Plan of Action), the world powers agreed to suspend some non-essential sanctions and to impose no new nuclear-related bans in return for Tehran's decision to suspend its 20% enrichment for a period of six months.
The two sides wrapped up the latest round of negotiations in the Austrian capital of Vienna on Thursday.
The next round of talks between Iran and the world powers, aimed at reaching a comprehensive deal on Tehran's peaceful nuclear program, will be held from March 17 to 20 in Vienna.