Ukraine Delays Announcing Interim Government
TEHRAN (Tasnim) - Ukraine's parliament put off plans to vote on the formation of a national unity government until Thursday to allow consultations to continue.
February, 25, 2014 - 15:04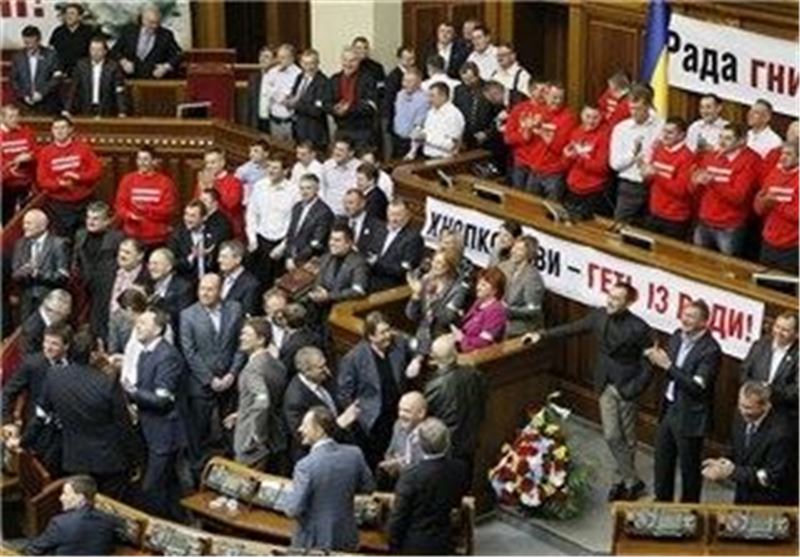 "The vote on the national unity government should be on Thursday," Oleksander Turchinov, the speaker of the assembly and the acting president, told the chamber.
The vote had been expected to take place during Tuesday's session; Turchinov had told members of parliament at the weekend that they had until Tuesday to form a new cabinet and appoint a new prime minister, Al Jazeera reported.
Politicians have been trying to stabilise the country after the disappearance of President Viktor Yanukovich and months of violence.
A presidential election campaign has already started; the Ukrainian Central Election Commission posted an election calendar online early on Tuesday, giving candidates until April 4 to register. Elections are due to be held on May 25.
Yanukovich's whereabouts remain unknown after he left the capital Kiev at the weekend. Ukrainian authorities were issuing an arrest warrant for him over his alleged role in the killing of protesters by security forces.
In Washington, the White House indicated it no longer recognised Yanukovich as president.
Spokesman Jay Carney said although Yanukovich "was a democratically elected leader, his actions have undermined his legitimacy and he is not actively leading the country at present".
Jen Psaki, a US State Department spokeswoman, said in a press briefing on Monday: "Yanukovich left Kiev. He took his furniture, packed his bags, and we don't have more information on his whereabouts. So there are officials who have stepped in and are acting in response to that leadership gap at the moment."
But Russian Foreign Minister Sergei Lavrov warned on Tuesday that it was "dangerous" to force Ukraine to choose between Russia and the west, a reference to interventions from the US and Europe over the fate of the Eastern European country.