Turkey Protesters Clash over 'Fake' Wiretap
TEHRAN (Tasnim) - Hundreds of protesters took to the streets and clashed with police in Istanbul and Ankara to denounce voice recordings suggesting that Prime Minister Recep Tayyip Erdogan warned his son to hide large sums of money from the police.
February, 26, 2014 - 12:07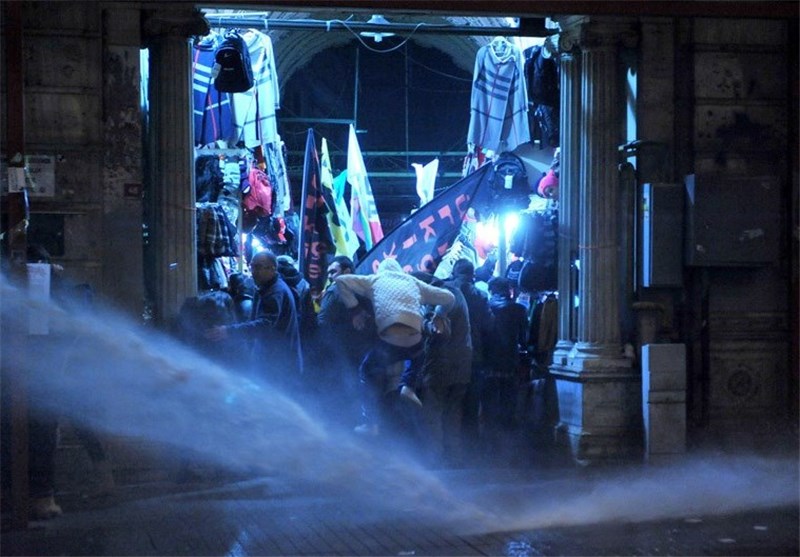 Police fired tear gas and rubber-coated steel bullets to disperse the anti-corruption demonstrators during a protest in Kadikoy Square in the commercial hub Istanbul, an opposition stronghold, Dogan news agency and other media reported on Wednesday.
The recordings were purportedly of Erdogan and his son Bilal discussing how to reduce the funds to "zero" by distributing them among several businessmen, before police raids in a graft inquiry that reached into government.
At one point, the voice supposedly of Bilal says some $40 million remain to be disposed of. The names of two businessmen were also mentioned.
Erdogan's office said late on Monday that the voice recordings were fake and "completely untrue," Reuters reported.
However, on Tuesday, the Republican People's Party, Turkey's main opposition, claimed to have verified of the recordings through "three or four channels". It also called on Erdogan to resign or leave the country, Reuters reported.
A judge has launched an investigation into the leaked recordings. It is not clear if the probe intitiated by the chief prosecutor on Tuesday was to determine authenticity or whether a possible criminal act had been committed by Erdogan.
The leaked phone conversations, which appeared two days after Erdogan's AK Party officially began campaigning for local elections at the end of March, may be the latest purported revelation in a fraud scandal Erdogan has cast as orchestrated to unseat him.
The corruption scandal, which erupted on December 17 with the detention of businessmen close to Erdogan and the sons of three ministers, has spiralled into one of the biggest challenges of his 11-year rule.