Gunfire by Night Becomes New Norm in Downtown Bangkok
TEHRAN (Tasnim) - Shots fired by unknown gunmen on Wednesday rattled parts of the Thai capital where anti-government protesters have set up camp for weeks, with small but occasionally deadly bombs and gunfire fast becoming the new norm in the city.
February, 26, 2014 - 13:17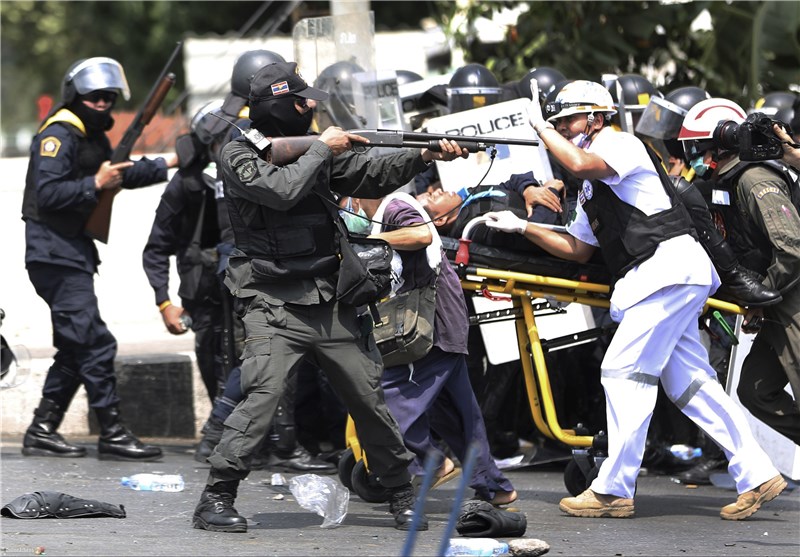 No one was wounded in the shootings in the central commercial area of Bangkok, although five people were killed in weekend violence in the city and the eastern province of Trat, four of them young children.
National security chief Paradorn Pattanathabutr said there had been no reported deaths or injuries in the incidents in the early hours of Wednesday, Reuters reported.
"As for the perpetrators, we still don't know who they are," he told Reuters. "Recently we have been seeing more incidents like this happening more frequently ... It is noticeable that there are incidents like this every day."
The protesters, whose disruption of a general election this month left polarized Thailand in political paralysis, aim to topple Prime Minister Yingluck Shinawatra and erase the influence of her brother, ousted premier Thaksin Shinawatra, seen by many as the real power in the country.
The protesters want to set up an unelected "people's council" of the good and worthy to oversee vaguely defined political reforms, including a restructuring of the police force, before new elections are held.
Occasional contact between the two sides, amid calls for putting an end to the violence, has so far led to nothing.
Bluesky TV, the protesters' TV station, showed demonstrators pushing against the wrought iron gates of the national police headquarters in Bangkok, demanding the proper investigation of more than 20 deaths since the beginning of the protests.
Protesters have vilified the police as lackeys of Thaksin, himself a former police officer.