Ukraine Rivals Clash as Russia Alerts Troops
TEHRAN (Tasnim) - Pro- and anti-Russian protesters have clashed in the Ukraine region of Crimea, as Russia orders battle-readiness checks on armed forces near the nations' borders and says it is moving to ensure the security of its Black Sea fleet.
February, 27, 2014 - 12:51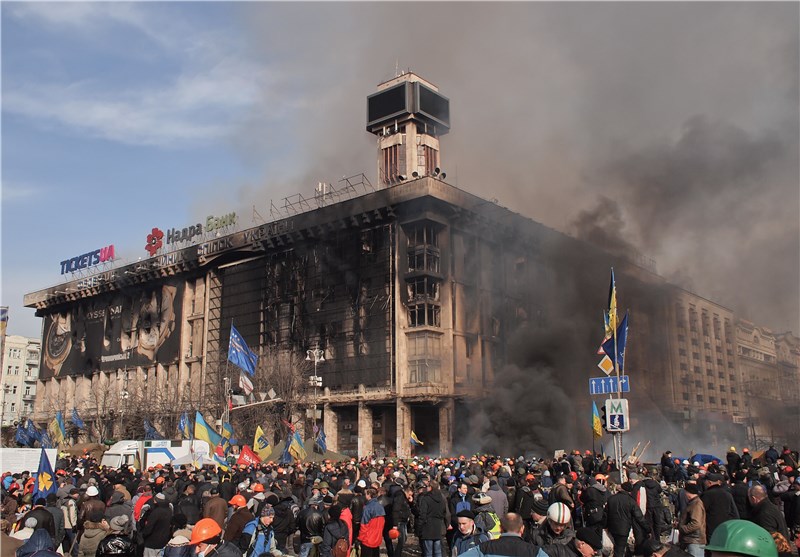 Scuffles broke out outside the Crimea regional parliament on Wednesday between thousands of pro-Russia separatists and supporters of Ukraine's new leaders as regional politicians prepared to debate the removal of the pro-Russian Viktor Yanukovich from the presidency.
Russian President Vladimir Putin issued battle drills for army, navy and airforce troops based in Russia's western military district, which borders Ukraine, Belarus, the Baltic states, Finland and the Arctic.
Russia's Defence Ministry was later reported by Reuters to have said it was taking measures to ensure the security of its facilities and arsenals of its Ukraine-based Black Sea naval fleet.
"The commander-in-chief has set the task of checking the capability of the armed forces to deal with crisis situations posing a threat to the military security of the country," Sergei Shoigu, defence minister, told Interfax.
Shoigu said that "generally speaking, the drill is not in any way related to the events in Ukraine".
Al Jazeera's Rory Challands, reporting from Moscow, said that similar inspections were made regularly in Russia to ensure readiness.
"The government will be well aware, however, that reminding its neighbours and rivals of Russian military might at this time is not such a bad thing to be doing." he said.
Separately to the Russian announcement, the secretary general of NATO, Anders Fogh Rasmussen, said the alliance to "for granted that all nations respect the sovereignty ... and territorial integrity of Ukraine".
"This is a message that we have also conveyed to whom it may concern," he said, without naming Russia.
The US urged Russia to keep its word to respect the territorial integrity of Ukraine and warned against provocative actions after Russia said it was boosting security measures in southern Crimea.